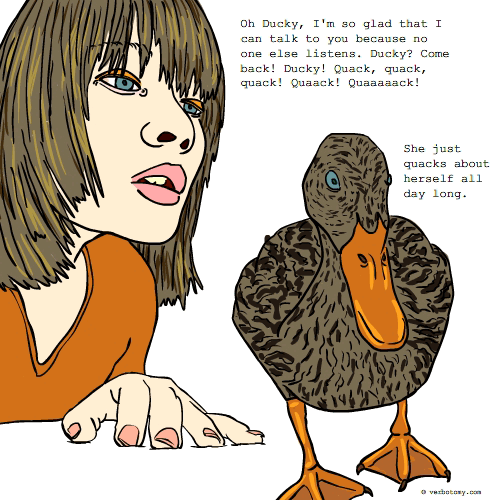 DEFINITION: n. A person who has the highly developed ability to communicate on a direct level with any type of animal, except for human beings. v. To talk to animals because you know that communicating with people is useless.
Petofeelya
Pronunciation: PET-OPHELIA
Sentence: The old neighborhood Just ain't the same Nobody knows just What became of Ophelia? Where have you gone? .....Ashes of laughter The coast is clear Why do the best things always disappear? Like Ophelia... Please darken my door. .....lyrics by The Band
Etymology: PET+OH!+FEELYA=PETOFEELYA.....PET: a domesticated animal kept for pleasure rather than utility perhaps back-formation from Middle English pety small.....OH!: used to express acknowledgment or understanding of a statement [interjection].....FEEL YA: late 20th centuy slang, possibly rooted in ebonics, derived from the phrase" I FEEL YA"-implying a deep, unspoken empathy bordering on mystical understanding..... FEEL to be aware of by instinct or inference. Middle English felen, from Old English fēlan; akin to Old High German fuolen to feel, Latin palpare to caress.....OPHELIA: A pivotal character in Hamlet, Ophelia is the most one-dimensional. She has the potential to become a tragic heroine but she instead crumbles into insanity, becoming merely tragic and ducklike. Ophelia sings songs and waddles around the stage,handing out flowers while citing their symbolic meanings and consuming millet. Although interpretations of the meanings differ, her telepathic contact with deceased waterfowl is generally accepted as a manifestation of madness- at least in the stage version that recently made it's North American tour of shabby playhouses and art-nouveaux beer gardens......
Points: 800