Verboticism: Alluraypetdumb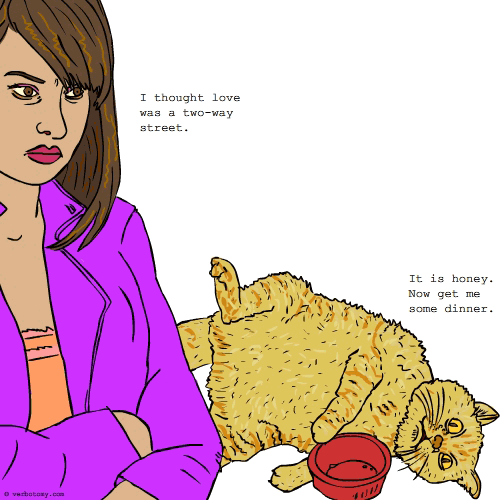 DEFINITION: n. A lovable yet stupid pet. v. To be dumb, fat, lazy, arrogant, and totally, completely, irresistibly cute.
Alluraypetdumb
Pronunciation: Al-lure-ay-pet-dumb
Sentence: Pepper would meow and scratch on the door with excitement as if she couldn't wait to see Kay come in the door! So,Kay would rush as fast as she could to open the door coming in from work.(Kay would often think awwww Pepper missed me!) Kay reached down to pet Pepper...saying," awwww, you missed me lil Pepper!" Then...Pepper would let out a hiss and swat Kay's hand away and dart off as fast as she could running and skidding sideways across the wooden floors to go hide for hours!(Pepper was no where to be found) Kay sat down for a while then unpacked from her travels,then finally went to take a relaxing warm bubble bath. Pepper slowly came creeping up to Kay like nothing had happened. Pepper lovingly purred as she looked up so sweetly at Kay with her soft blue eyes...Kay reached out to pet her then Pepper raced off again to the kitchen to go sit at her food bowl meowing loudly! Kay toweled off and went to the kitchen to see the adorable "alluraypetdumb" expression of Pepper glaring up at her until Kay fed her! Kay went through this same treatment every time she came in from work and Pepper kept up with her "alluraypetdumb" attitude every single week! "Oh, but Pepper was so cute!" (Kay thought,as she was rolling her eyes and mumbling dumb cat,gosh I love her!)
Etymology: Allure: To entice by charm or attraction. ("e" taken off of allure) A: Used as a function word in speech and writing, a is used before a consonant sound (a pet) or (a human). Pet: A pampered or usually a spoiled as child or a person who is treated with unusual kindness or consideration a darling... Or a domesticated animal kept for pleasure rather than utility. Dumb: Lacking intelligence or appearing to be not very bright.
Points: 587