Verboticism: Contagearthed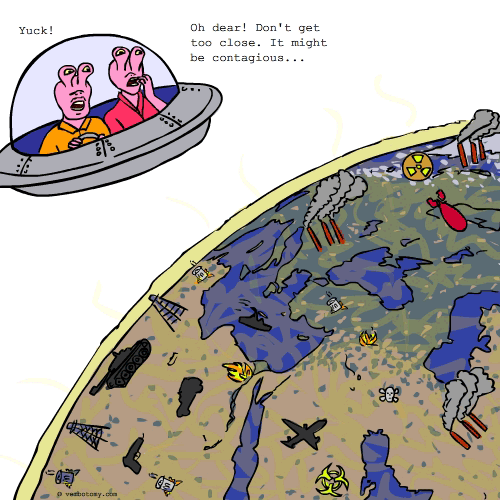 DEFINITION: n. A sick planet which has a cold, a fever, and some kind of weird infection. v. To be worried sick about the health of the planet, because you know the problem is really the people.
Contagearthed
Pronunciation: con-tage-urth-d
Sentence: George and Jane Jetson were out in the aerocar for their usual Sunday planet fly around...as Rosie kept a watchful eye on Elroy and Judy back home in Mars. The Jetson's got closer to planet earth as George and Jane gasped and became "contagearthed" at the terrible shape the earth had turned into! George quickly pressed the red reverse zoom button on the aerocar to head back to Mars, in fear that the "contagearthed" particles may attach to the transparent top of the aerocar and make them all sick! Jane screamed," HURRY George, I think we just got hit by asteroid that chipped the transparent top and we might be breathing that stuff in!" The family dog Astro in the back seat looked up quickly then laid back down barking,"Ruh-roh-Ruh-roh!" George and Jane were relieved they had been forced to relocate to Mars by George's grouchy ol' boss Mr. Cosmo Spacely (owner of the company Spacely Space Sprockets) Maybe, he wasn't so mean after all...seeing the terrible mess that the earth had been turned into by the humanoids!
Etymology: Contag:Taken from first part of contagion;meaning:Disease transmission by direct or indirect contact. Earth:The land surface of the world...added ED to Earth to show also the meaning of Earthed> Earthed:To cover or heap.
Points: 695