Verboticism: Nanoutragedis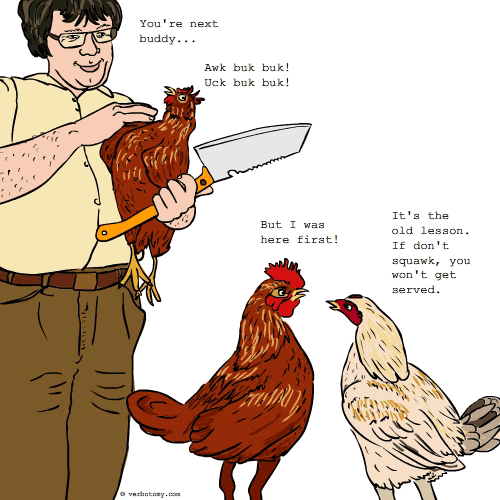 DEFINITION: n. The feelings that well up inside of you when you're waiting for service and another person, who arrived after you did, gets waited first! v. To wait and wait in line, only to watch other people jump the queue.
Nanoutragedis
Pronunciation: NANN-out-RADGE-a-DISS
Sentence: I felt so outraged, abused and forsaken- As I waited in line for Canadian bacon… I took a ticket but she took my place ...then my anger succumbed to her beautiful face… I said "Excuse me- Do you have my number ?"… Making my point, I felt so much dumber… I had no appointments, no kids to collect… No fish on the fire, no cars to inspect. Letting her know that her actions were rude was the best thing I did-now we're sharing our food. We're watching old movies in a strange state of bliss… All because of a NANOUTRAGEDIS!
Etymology: NANO+ouTRAGe+tragEDy+DIS=NANOTRAGEDIS.....NANO: one billionth (10−9)of something, infinitely small or insignificant; International Scientific Vocabulary, from Greek nanos dwarf.....OUTRAGE: an act that violates accepted standards of behavior or taste, the anger and resentment aroused by injury or insult; Middle English, from Anglo-French utrage, outrage insult, excess, from outre, utre beyond, from Latin ultra.....TRAGEDY: a disastrous event, a serious drama typically describing a conflict between the protagonist and a superior force (as destiny) and having a sorrowful or disastrous conclusion that elicits pity, terror or an awkward date; Middle English tragedie, from Middle French, from Latin tragoedia, from Greek tragōidia, from tragos goat (akin to Greek trōgein to gnaw) + aeidein to sing[14th century].....DIS: short for disrespect, to treat with disrespect or contempt [1980].
Points: 1073