Verboticism: Mariahcarryall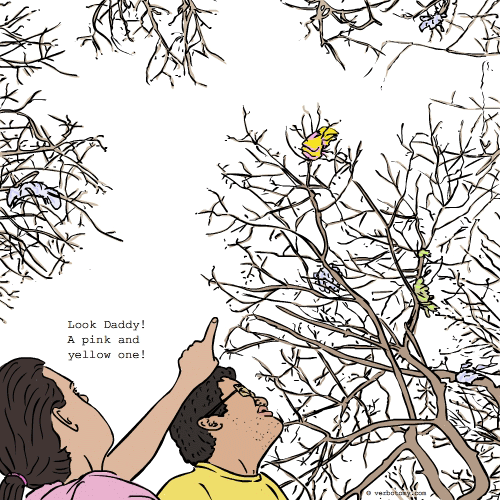 DEFINITION: n. The colorful array of plastic bags and other debris which blossom on the trees, thanks winter's whistling winds -- and a few careless neighbors. v. To watch your garbage caress the landscape, as it blows in the wind.
Mariahcarryall
Pronunciation: mar rye ah kerree awl
Sentence: Ben & Elizabeth knew that spring was just around the corner. Sure most of the snow had gone, the air was a bit warmer, robins were returning and gophers still hadn't learned to avoid the road. But the main reason they knew was because their trees were littered by mariahcarryall. Every color of plastic bag was hung like an ornament on most branches. Paper cups from every fast food outlet for miles around decorated the gutters, jammed themselves on the fence and added to the colorful springtime signal. When they spotted this each spring, the musical couple (they played in the wind section) would gale-ly sing their rites of spring song, with much gust-o: "Away out here they got a name for wind and rain and fire. The Rain is Mess, The fires Grow and they call the wind Mariahcarryall. Mariah blows the trash around, and sends the roll-up-the-rim cups a flyin', Mariah makes the trees abound, with poly messes of every kind!"
Etymology: Mariah (from "Paint Your Wagon", Lerner & Loewe...a song named" They call the wind Mariah" also recorded by the Kingston Trio) & Mariah Carey (popular singer, whose mother named her after the wind in the above song) & Carry (take away, be conveyed over a distance) & All (everything) & Carryall (something large that carries a lot of things)
Points: 716