Verboticism: Interrograte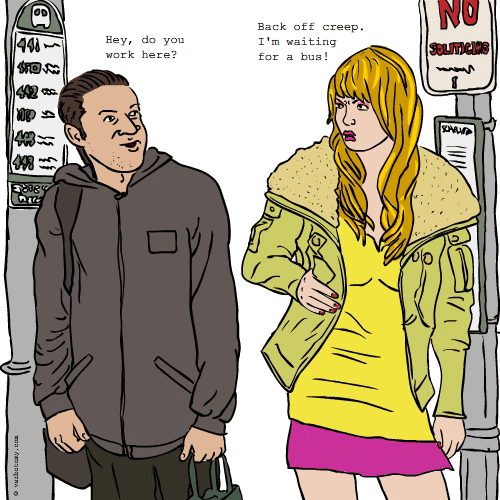 DEFINITION: v. To ask someone who is clearly in a store uniform, perhaps on a ladder creating a display or running a cash register "Do you work here?" n. A person who doesn't know how to ask for assistance in a retail store without asking a stupid question.
Interrograte
Pronunciation: in TER ro GRATE
Sentence: As Emma would pose her redundant and asinine questions to wait-staff, store-clerks, and other service industry employees, it became clear she was posing in more ways than one. She would interrograte these poor unsuspecting workers with her snobvious questions to show her tiny bit of power over them. Then she would quickly send them off to answer to her whims. One day we sat at a restaurant table where there was a buzzer to bring the waiters. She had them come about ten times. "Is this water in this jug? Are these organic lemons? Is the coffee fresh? Freshly ground? What is that song playing on the radio right now? Does your boss also own the franchise across town?" She just wouldn't stop.
Etymology: INTERROGATE: GRATE: to get on someones nerve; irritate
Points: 1910