Verboticism: Armageddonouttahere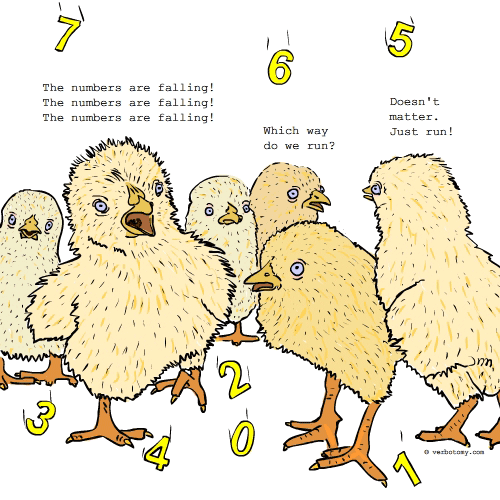 DEFINITION: v. To get freaked out by falling numbers and the prophets of doom who are eternally peddling their message of imminent global collapse. n. A type of mass hysteria created by the fear of falling numbers.
Armageddonouttahere
Pronunciation: arma-geddon-owta-heer
Sentence: "Wow! you really love baked beans" said Mike as he stared into Percy's full shopping trolley. "There for my bomb shelter up in Dead Man's Canyon" exclaimed Percy, "Next week the three moons of Zarcan will align with the cosmic aura of Xantoras and all who walk the Earth shall perish in the rain of unholy fire, so armageddonouttahere". "Oh" said Mike, "I just thought they were on special".
Etymology: 1.armageddon - catastrophic destruction. 2.I'm out of here - an expression of intent to leave a location.
Points: 929