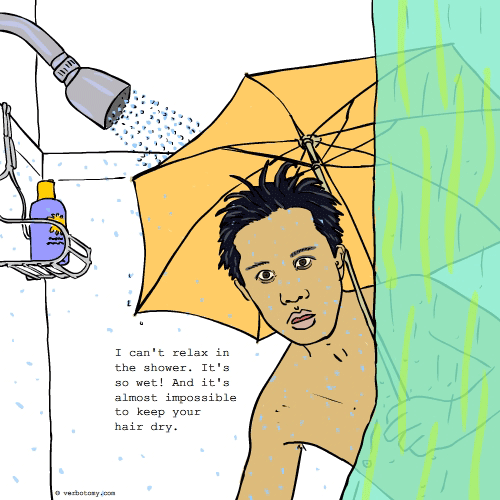 DEFINITION: v. To take a really long, relaxing, shower; so long in fact, that you loose concept of time. n. A prolonged shower that uses up a whole tank of hot water and leaves the bather looking like a boiled raisin.
Htwohno
Pronunciation: aych + too + ooo + nooo
Sentence: Carsten was quickly looking puckered and dry. He did not realize how much time he was spending in the shower and puzzled over his water bills. Today was truly htwohno time as he went through an entire tank of hot water, missed three phone calls, was late for work and to top it off, when he got to work no one recognized him.
Etymology: H20 + oh no >> H2O (water, the most abundant molecule on the face of the earth) oh no (An exclamation or expression of alarm, concern, or resentment about a problem or error)
Points: 794