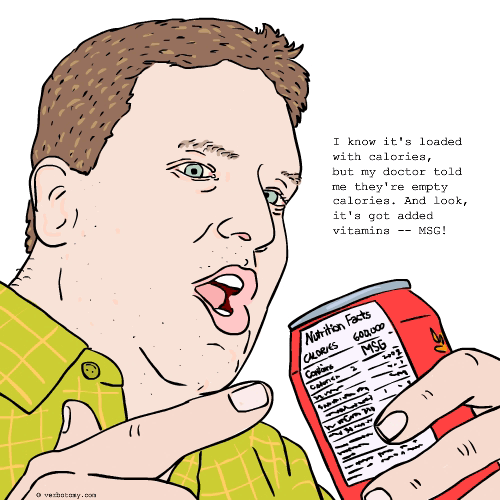 DEFINITION: n. Any highly-processed food or beverage in which the natural ingredients have been removed and replaced with artificial flavors and additives. v. To consume food products laced with synthetic sweeteners, imitation flavors, and other carcinogens.
Pseudofoodo
Created by: artr
Pronunciation: soōdōfoōdō
Sentence: Charlie is a vegetarian at heart. The thought of killing some poor defenseless creature saddens him deeply. When he read about a study that claimed that plants emit a sound much like a scream when picked, he was left in a quandary. What could he eat? His solution? Pseudofoodo! The "O" foods! Munchos, Bunchos, Crunchos, Chunkos, Dunkos. The more processed - the farther away from anything living - the better he likes it. If only those bio-degradable packing peanuts had a little cheese or onion flavoring. If only he had the energy to go to the gymo to work off some of his flabo.
Etymology: pseudo (not genuine; sham) + food (any nutritious substance that people or animals eat or drink) + "O" for the O foods.
Points: 923