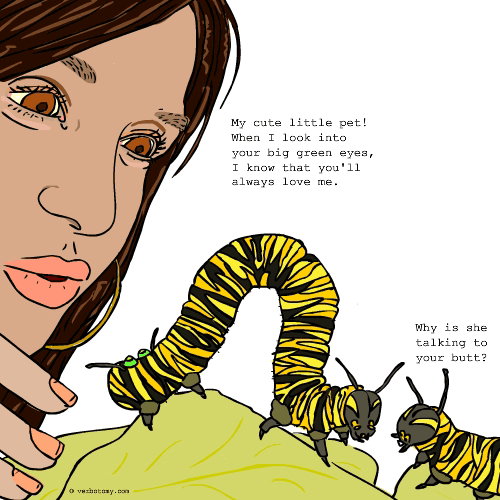 DEFINITION: n. A person who insists that lower life forms (fish, clams, cephalopods, reptiles, or insects) can be affectionate pets and excellent watchdogs. v. To talk to an animal who can't possibly understand a single word you're saying.
Petofeel
Pronunciation: pet o feel
Sentence: Magenta was a petofeel. She developed unnatural emotional bonds with insects. In high school, she was voted Moth Likely to Succeed. She won many spelling Bees during her final Termite at College. With her sister pregnant, she was soon to become an Ant. Although she was born a WASP, she became a Praying Mantis. She had once been married, but he turned out to be a Louse. She enjoyed all kinds of Grub and when she had to travel she preferred to Fly. At school dances, she often performed the Worm, especially to old Beetles music. She'd been known to enjoy a Roach or two. Many times she just wanted to Flea when people started to Bug her. She was an Aphid supporter of Butterfly gardens and also enjoyed Cricket. At the local bar, she would always order a Grasshopper and her computer was equipped with a Spider program, on the world-wide Web. She admired Ladybird Johnson and her greatest fear was having the exterminator crawl up her driveway. We could tell you more about her, but we'd hate to Drone on...
Etymology: Pet (a domesticated animal kept for companionship or amusement; preferred above all others and treated with partiality) & Feel (undergo an emotional sensation) & rhymes with pedophile (love of children, literally, but more sinister)
Points: 863