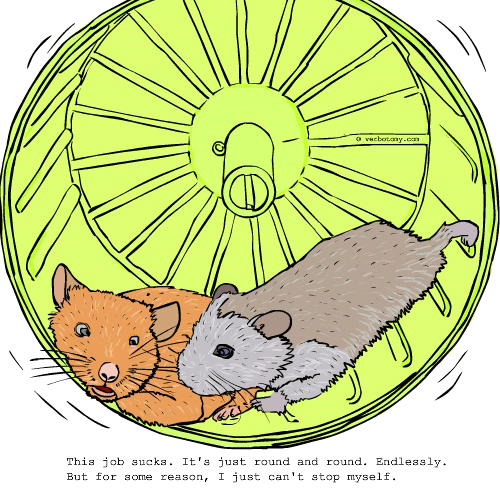 DEFINITION: n., A person who diligently and persistently complains about their work. v., To enjoy bellyaching about your job so much that you would never consider quitting.
Sisyfuss
Created by: artr
Pronunciation: sisəfəs (just like the real word)
Sentence: George was such a Sisyfuss. He complained about getting to work. He complained about being at work. He complained about the work he did. He complained about the trip home. While at work he complained about his home life. He not only rolled that big rock up the hill, he pushed it down again trying to take out as many others as possible as it went down. Some say he is able to keep his youthful appearance because he never uses the muscles in his face that are required for smiling.
Etymology: Sisyphus (the son of Aeolus, punished in Hades for his misdeeds in life by being condemned to the eternal task of rolling a large stone to the top of a hill, from which it always rolled down again) + fuss (show unnecessary or excessive concern about something)
Points: 641