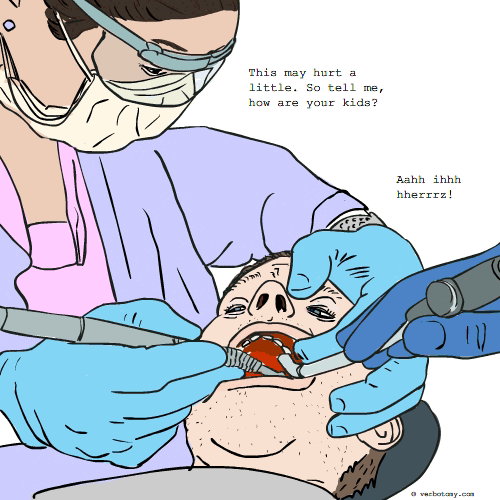 DEFINITION: n., Forced small talk used by professional caregivers to put patients at ease. (Not usually effective.) v., To ask insipid questions while subjecting a person to an intimate, awkward or painful procedure.
Qandaches
Pronunciation: kew and ayks
Sentence: Dr. Yvonne is one multi-tasking dentist. She can mask up, get both fists in your mouth simultaneously, probe and scrape and poke and pull and all the while, ask what you thought about medical/political/societal and philosophical issues, while giving you the benefit of her own thoughts on each topic and understanding your feeble, numb, unintelligible answers. At the same time, she gives verbal notes to her dental assistant for your file, as she tells her what she needs next and calculates your bill and how much your insurance will pay for each treatment. Yes, she has QandAches down to a fine science. No wonder they call her Leader of the Plaque!
Etymology: Q and A (Questions and Answers)& Aches (a dull persistent (usually moderately intense) pain; be the source of pain;feel physical pain)
Points: 518