Verboticism: Boryawnagain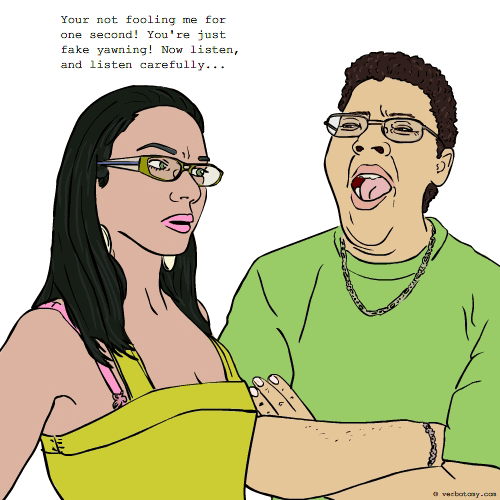 DEFINITION: v., To yawn or sigh repeatedly in an effort to subtly communicate one's lack of interest in the current conversation. n., A series of long, exasperated, and often escalating sighs indicating extreme boredom.
Boryawnagain
Pronunciation: Bore-yorn-a-gayn
Sentence: When Sue began to witter on for the tenth time about the new luxury hot tub she had recently purchased, Rob started the usual boryawnagain stance. He repeatedly shifted from one foot to the other and pretended to yawn in an attempt to silence the woman. But there was no stopping her, so eventually he just had to nod his head in agreement to everything she said, while his thoughts turned to things much more interesting, like what he would be having for dinner later.
Etymology: Bore(cause to feel weary and uninterested by being dull or tedious) + Yawn(open one's mouth wide and inhale deeply due to tiredness or boredom) + Again(repeat) = Boryawnagain
Points: 755