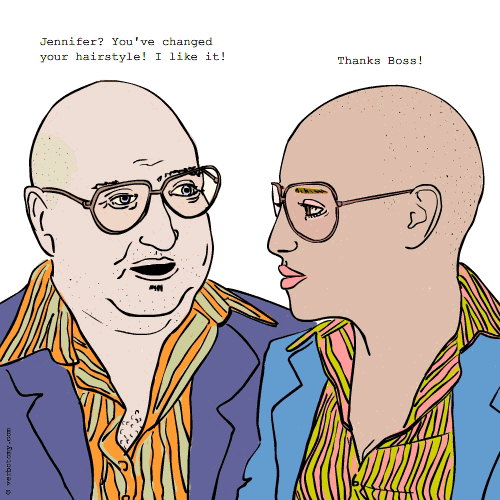 DEFINITION: v. To seek approval from your boss by emulating their style, mannerisms or affectations. n. A person who copies their boss's style in order to win favor.
Mymickery
Pronunciation: Mime-mic-er-ie or mim-ic-ory. (col. var.)
Sentence: "They say imitation is the best form of flattery to deceivery but the amount of acting out and out mymickery that went on today was beyond the beyond, Mr. Bond", said Pauline.
Etymology: An overlapping mix of 0. Mimic, can be verb or noun, one who imitates or sends up another, to engage in such behaviour. 1. My, (possessive pronoun), which doubles as an expression of exasperation (my oh my!) 2. Mime, an art-form-of-expression which impersonates a frenchman locked in an imaginary glass box who eventually finds his way out by tugging on a rope. 3. Mick, meaning Irishman as Paddy "taking the mick" by impersonating ones character by winding up or taking the piss, taking the Michael. The -ery suffix just rounds off the whole ensemble, kit and kaboodle. Alright Jack?
Points: 608