Verboticism: Coughyearner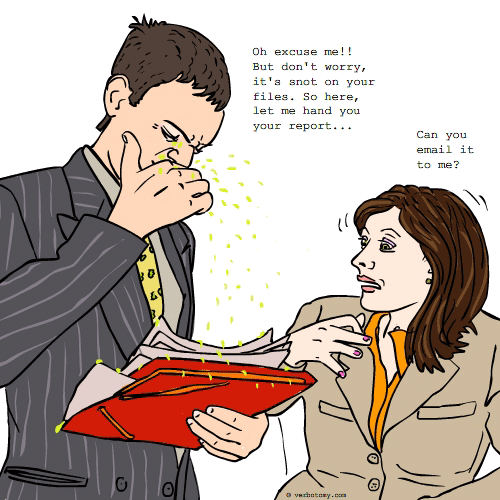 DEFINITION: v. To be so hardworking and dedicated to your job that you come to work even when you're sick and dangerously infectious. n. A person who comes to work sneezing, coughing, contagious, and sick as a dog.
Coughyearner
Pronunciation: cof fee urn ner
Sentence: Con Tagion worked as a germologist in a large jewellery store. His favourite song was Peggy Lee's "Fever"; his favourite movies were "Outbreak" and "The English Patient". Con loved to drink Bloody Mary's with Lyme juice and he loved the inspiration he got from tv medical dramas. He was also a coughyearner. He earned his living while he coughed and sneezed all over his customers and his co-workers, his work station...everywhere in the store. He came into work no matter how sick he was, because he needed the money to buy new Shingles for his home and he could not afford to miss his measle-y wages. But every time he came in ill, 3 others got sick and had to miss work. His co-workers were fed up with his communicability and his boss had taken to calling him Typhoid Larry. Con loved his job, because the time really flu by, but his computer really was virused and his infectious enthusiasm for his job was really,well,infectious. Daily, into the workplace, he brought in bacteria and some suspected fronteria, too! One day his boss decided that Con would never take time off work if he thought his workload would suffer, so in a rash decision, a lovely female quaranteen was hired to help him. His boss told him that he was sure Con would soon feel better because his new assistant, Penny Cillin, was bound to help!
Etymology: Cough( sudden expulsion of air from the lungs that clears the air passages; a common symptom of upper respiratory infection or bronchitis or pneumonia or tuberculosis) & coffee (a beverage consisting of an infusion of ground coffee beans) & urn (a large pot for making coffee or tea) & earner (someone who earn wages in return for their labor)
Points: 539