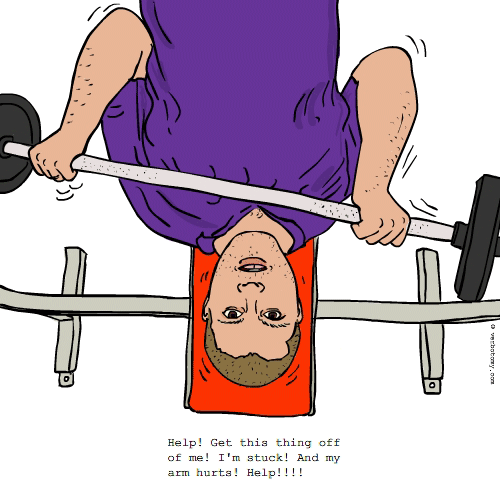 DEFINITION: v. To return to the gym in order to get back in shape, only to over-do-it and injure yourself. n. An injury which is the result of an overly ambitious exercise program.
Traincrash
Created by: petaj
Pronunciation: train-crash
Sentence: Connor's traincrash was the worst I'd ever seen at the gym. After two full days of repetitions on the machines, he was so exhausted that he fell asleep against the weights rack, which caused the weights to roll along the floor taking out half the yoga class, the rest of whom ran screaming towards the treadmills causing one of the joggers to lose his footing and suddenly shoot backward wherein he splashed into the pool causing a huge puddle to flood the floor beneath the weight rack giving Connor a terrible electric shock resulting in burns to 75% of his body and a nasty tremor that he'll have for the rest of his life.
Etymology: train (undertake a fitness program) + crash (incident that often causes injury) + train crash (something that is awful to witness)
Points: 689