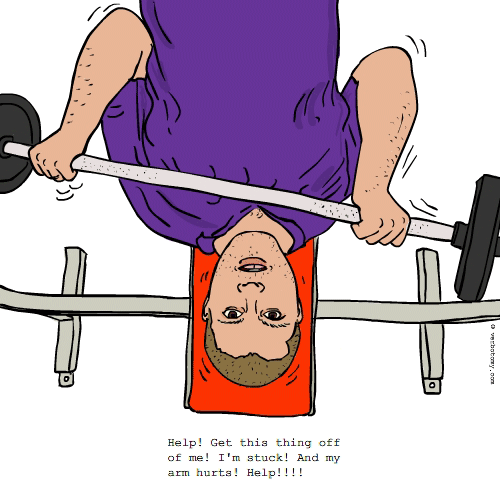 DEFINITION: v. To return to the gym in order to get back in shape, only to over-do-it and injure yourself. n. An injury which is the result of an overly ambitious exercise program.
Inexertia
Pronunciation: in ex zer sha
Sentence: Randy decided that five years away from his fitness club was too long. Inspired by infomercials and a waistline that kept thickening, he decided to re-enroll and get back the hard body he once proudly showed off at the beach. He carefully parked his car as close as possible to the gym - no sense risking a fall on icy pavement before he even started. When he arrived, a cute redhead was working out on an exercise bike. Without stretching or warming up, he mounted the bike beside her and peddled like the wind. After 10 minutes, he threw his leg up to dismount and pulled his groin muscle so hard that 3 attendants had to pull him off the machine and lay him on the floor, where he waited in agony until the ambulance arrived. What did this inexertia end up costing him altogether? $100 gym fee; $500 ambulance ride;$2,500 hospital fees;$500 for pain meds; $200 for having his car towed; $500 to reclaim it later at the impound yard; new shorts $50 (the old ones had to be cut off);and a date with the cute redhead who had visions of her potential suitor being unable to give her children: Priceless!
Etymology: inertia (the tendency of a body to maintain a state of rest or uniform motion unless acted upon by an external force;a disposition to remain inactive or inert) & exertion (use of physical or mental energy; hard work)
Points: 623