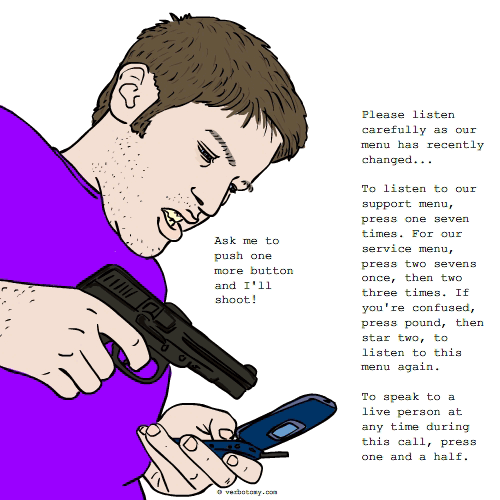 DEFINITION: v. To call a phone "help line" and spend 45 minutes pushing buttons and screaming at dumb voice-recognition system, before being automatically disconnected. n. A push-button or voice-activated phone menu system designed to irritate those who use it.
Presstress
Pronunciation: press stress
Sentence: Murray's patience was running out...he was feeling the presstress of waiting on the phone for over 10 minutes now, after having been forced to press many choices to get to his final destination and then they put him on hold. What happened to when you phoned somewhere and got a live human to answer your questions? What made the powers that be decide to substitute pretend humans for real ones. He knew that lady's voice on the phone better than his own mother's! His aggravation grew and he presstressed some more, only to still end up on that message,"Your call is important to us, we value your business, please wait on the line for the next available operator". Sheesh, how hard was it to get a pizza anyway? And then he realized his error...in his presstress, he had not called Tony's 30 Minute Pizza, but had in error pushed another number. Good thing he was not dying or in trouble, just hungry, because he had accidentally pushed 911 instead!
Etymology: press (the act of pressing; the exertion of pressure or the state of urgently demanding notice or attention) & stress (a state of mental or emotional strain or suspense; or test the limits of)
Points: 719