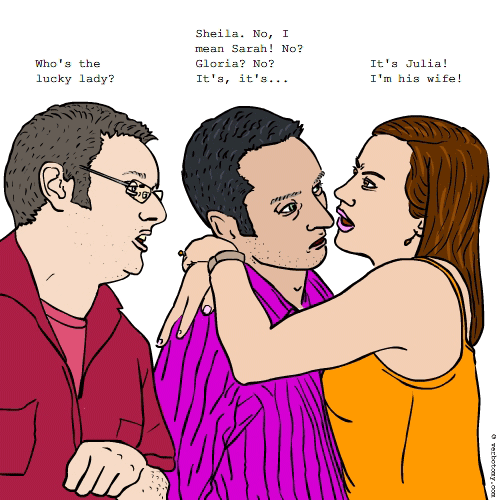 DEFINITION: v. To be unable to remember the name of a person you are speaking to, even though you've had a long-standing, and perhaps even an intimate relationship. n. An inability to remember a person's name.
Whodonym
Pronunciation: /hoo-do-nim/
Sentence: Jason always called his fiancee by pet names, such as "Sweetheart" or "Honey," and although her name was actually 'Mary Louise' all her friends just called her "Lou". So when he introduced her to his cousin before the wedding, he got a case of 'brain lock' and all he could think of were whodonyms. Then, at the chapel, when the priest asked, "Do you take Mary Louise to be your lawfully wedded wife?" Jason's nervous first response was to ask, "Who?". It was beginning to look like the honeymoon wasn't going to be as pleasant and relaxing as he'd hoped.
Etymology: Who - what person? (from Old English, hwā "who") + pseudonym - a fictitious or pen name (from Greek, pseudonymos "having a false name")
Points: 611