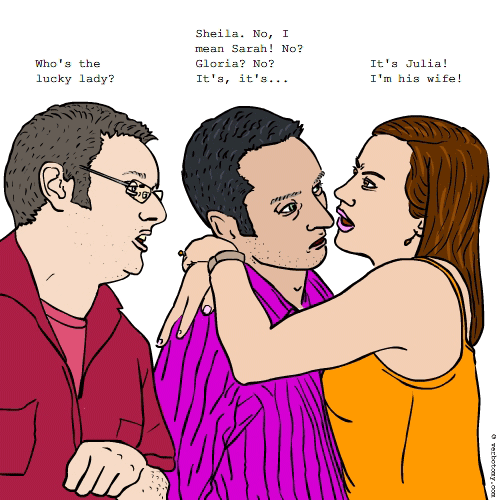 DEFINITION: v. To be unable to remember the name of a person you are speaking to, even though you've had a long-standing, and perhaps even an intimate relationship. n. An inability to remember a person's name.
Routinenile
Created by: Banky
Pronunciation: roo-teen-niyl
Sentence: Maybe it was the hangover from the two bottles of cognac in the hot tub the night before. Perhaps it was the countless lines of cocaine in the men's room with various twenty-something boys that morning. It could be loss of blood from a very large, very angry, and very white tiger that was mauling him at the moment. Whatever the cause of the sudden onset of routinenility, Roy could not remember his partner's exotic foreign name to call out for help.
Etymology: routine - familiar + senile - exhibiting a loss of cognitive faculties
Points: 701