Verboticism: Absintheminded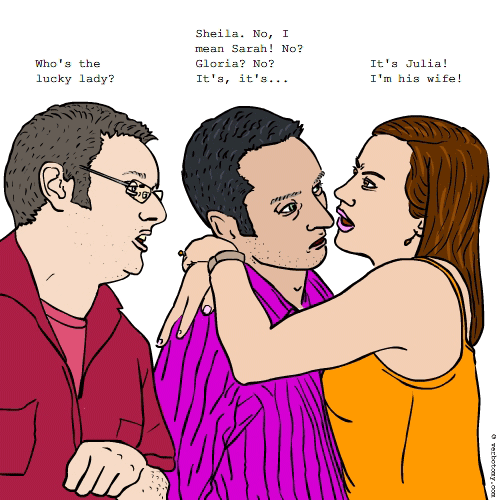 DEFINITION: v. To be unable to remember the name of a person you are speaking to, even though you've had a long-standing, and perhaps even an intimate relationship. n. An inability to remember a person's name.
Absintheminded
Pronunciation: as sinth meyen did
Sentence: For over 30 years, once a month, the 6 friends had gotten together for drinks, snacks and an exchange of ideas and gossip, the way friends do. They had talked on every subject over the years, but creeping old age and the stress of daily living combined with copious tippling were starting to take their toll. Of late, their discussions took longer and many's an evening, their witty banter sounded more like: "You remember that actress,who was in some show with 5 friends (I can't remember the name of it), you know the one that used to be married to that guy who ran off with another actress and they had 4 kids ...she's another actor's daughter but they don't get along? You know, her dad was in an Academy award winning picture (I can't quite remember the title, but the music theme is going through my head).He was in it with what's his name who played in that movie about a soap star who had to become a woman to get work? Well, she, the first actress is a daughter of another actor who stars on that soap I used to watch and he was always a villain? You must remember...well, anyway, she just broke up with a guy who acted in that wedding movie with the actor who has a brother who also acts...you know the one I mean. Gosh they lead interesting lives!" Yes, the six grew more absintheminded with every toast. One of these times, they'd have to be hospitalized for anomia! Each night they got together, they performed their own version of "Geriatric Jeopardy". You know that game show hosted by that Canadian guy, Alex What's his name!
Etymology: absinthe (strong, supposedly hallucinogenetic liqueur which suppresses memory)& absent (mental pre-occupation) & minded (mental orientation)
Points: 512