Verboticism: Kvetchklatsch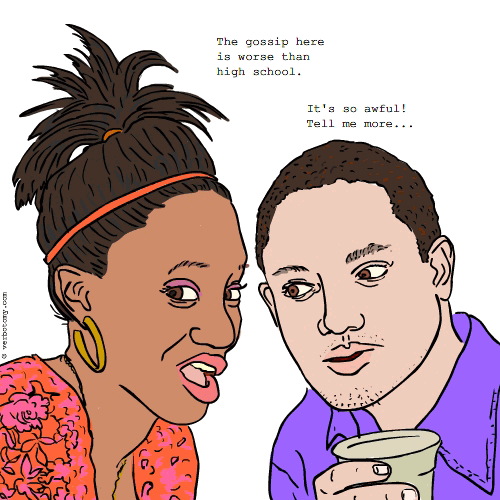 DEFINITION: v. To complain and complain about a problem without ever taking action to correct it. n. A complaint about something which you can fix but choose not to.
Voted For: Kvetchklatsch
Successfully added your vote for "Kvetchklatsch".
Thanks for voting! You have now used both of your votes today.
Created by: administraitor
Pronunciation: blai-zem-ee
Sentence: The water cooler was the place to hear a fresh blazemy in the heady work-shy days before bankruptcy
Etymology: blame + lazy
Created by: petaj
Pronunciation: ide-l-wine
Sentence: MEMO To: All Staff From: Head Honcho OK you horrible lot, I'm sick and tired of your idlewhines. It makes this company look unprofessional. You are a lazy bunch of no goods who can't be bothered to extract a digit now and then and fix things up. If I can find enough time next year, we'll see about maybe hiring an insultant to deal with this poor behaviour. But for now, I can't find the time to address this problem, so you'll just have to put up with your gripes.
Etymology: idle + whine
----------------------------
COMMENTS:
Idlewhine, idlewhine, every morning you greet me ... - petaj, 2007-06-15: 06:03:00
Oh, I see you've joined the Pick on Purple club. May the Blossom of Snow that grows in your back yard be attached to 3 shiney leaves. - purpleartichokes, 2007-06-15: 06:22:00
(bloom and grow foreeeever...) - purpleartichokes, 2007-06-15: 06:38:00
You won't find any blossoms of snow in my backyard. Subtropical rainforest is more likely. (Small and white, clean and bright.. ) - petaj, 2007-06-15: 21:08:00
Poison iv-y-y-y-y, poison iv-y-y-y-y Late at night while you're sleepin' poison ivy comes a'creepin' - Jabberwocky, 2007-06-16: 00:12:00
----------------------------
Created by: artr
Pronunciation: dis-kuhm-pleyn-suhnt
Sentence: Janice is so discomplaincent that she even fusses about her own inactivity.
Etymology: discontent (dissatisfaction) + complain (grumble about) + complacent (pleased, especially with oneself or one's merits, advantages, situation, etc., often without awareness of some potential danger or defect)
Created by: Stevenson0
Pronunciation: grahyp/es/ents
Sentence: Every office has two, or three incessant bitchers (women) and bastarders (men) who complain about every detail and do nothing about it except be bitchers and bastarders about anything and everything. This evil underlying gripescence is the single most distructive force in the workplace.
Etymology: GRIPESCENCE - noun - from GRIPE (complain constantly; grumble) + QUIESCENCE (being at rest; still; inactive, or motionless)
----------------------------
COMMENTS:
Amen, Brother! It's usually perceived that the women at work bitch, but the men provide valuable work-related feedback!!! - Nosila, 2008-08-08: 00:40:00
I like it - OZZIEBOB, 2008-08-09: 18:41:00
----------------------------
Created by: Pythias
Pronunciation: k-vetch-klatsch
Sentence: Not to be remedied, but to be savoured, the highlight of their day was a veritable kvetchklatsch.
Etymology: kvetch - klatsch
Voted For! | Comments and Points
Created by: Jabberwocky
Pronunciation: long/wine/did
Sentence: The head trader was so longwhineded that the constant cacophony he created garnered him the distinction of being known as a whine expert.
Etymology: long winded (constant) + whine
----------------------------
COMMENTS:
Sometimes i wish I could "trade heads"... - metrohumanx, 2008-08-08: 17:40:00
----------------------------
Created by: SnatchRaffle
Pronunciation: Gr ipe san sa meal io rate
Sentence: Dennis I am so sick of your gripesansameliorating! If you are bored go outside and play. Or take a nap! Ed is just a crotchety old gripesansameliorate. I don't think I've ever seen him actually work. Just sits there, and laments that his children never call.
Etymology: Gripe: complain, whine Sans: without Ameliorate: to make better
Created by: TJayzz
Pronunciation: Grum-bel-dro-n
Sentence: Marge was the biggest grumbledrone ever, she would continually go on and on about something but would never do anything to rectify the matter. Today it was the 'foul' taste of the coffee again. However, no matter how much she hated it, she still refused to bring in her own favourite brand.
Etymology: Grumble(complain or protest in a bad-tempered way) + Drone(to speak tediously at length) = Grumbledrone
----------------------------
COMMENTS:
Man- SO MANY good words today! GRUMBLEDRONE has a GREAT sound. Nice imagery it generates. - metrohumanx, 2008-08-08: 07:23:00
A drone is also (n.) An idle person who lives off others; a loafer. Eggzullent word. - Mustang, 2008-08-08: 07:43:00
Good word...another Hairy Potter reference?? Keep on Rowling on the River! - Nosila, 2008-08-08: 22:44:00
Good word - OZZIEBOB, 2008-08-09: 18:40:00
----------------------------
Created by: ohwtepph
Pronunciation: fuhs-sloth
Sentence: She's such a fussloth. She complains about workplace obscenity just to score with the boss while wearing that thong and miniskirt to work.
Etymology: fuss [complain] + sloth [a lazy person] + slut [I just felt like it was an important part of the etymology] :D
Created by: surdut
Pronunciation:
Sentence: Her friends tired of her rewhining about her boyfriend, so they sent her to a shrink in hopes that she would move forward.
Etymology: