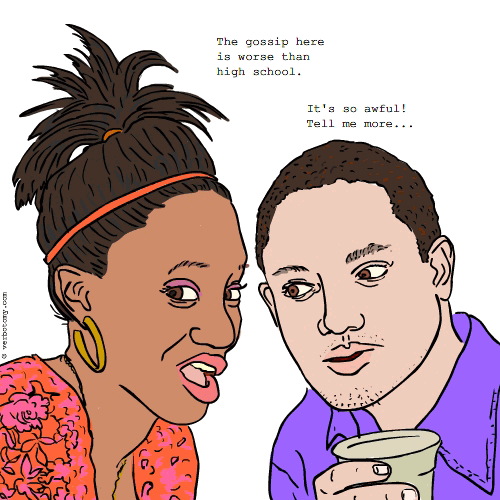 DEFINITION: v. To complain and complain about a problem without ever taking action to correct it. n. A complaint about something which you can fix but choose not to.
Already Voted
Vote not counted. We have already counted two anonymous votes from your network. If you haven't voted yet, you can login and then we will count your vote.
---
Gripertia
You still have one vote left...
Created by: Osomatic
Pronunciation: grum-bull-eth-arg-ee
Sentence: I could empty the cat box myself, but grumblethargy is easier.
Etymology: grumble + lethargy
----------------------------
COMMENTS:
Ever get one of those clumps stuck on the side of the box and the force of the scoop catapoops it across the room? Happened to me yesterday. I guess the neighbors will eventually find it when they come back from vacation. - purpleartichokes, 2007-06-15: 12:58:00
Good word. - petaj, 2007-06-15: 21:17:00
----------------------------
Created by: Nosila
Pronunciation: wyn may ker
Sentence: Stacy was the world's greatest whinemaker. No matter what the subject or event, she could easily manufacture a complaint about it without making any suggestions for improvements. Most people were sure that if she won big on the lottery, she'd be complaining about how she should spend it...
Etymology: Whine (complain) & Maker (someone who manufactures something) and wordplay on Winemaker (someone who produces wine)
Created by: mweinmann
Pronunciation: gri - p - ah - haul - ik
Sentence: Sonora was a gripeaholic and she knew it. She could not stop complaining and her addiction had grown worse. She started a GA group (gripeaholic's anonymous) for people who wanted to stop. Problem was, their meetings turned into "gripefests" and nothing was ever accomplished.
Etymology: Gripe (complain) + alcholic (someone who is addicted to alcohol)
Created by: Mustang
Pronunciation: car - puh - THET - ik
Sentence: Elwood is completely carpathetic about things he feels are wrong; he carps and complains but is such an ineffectual wimp he never does anything to improve things.
Etymology: Blend of 'carp' (complain) and 'pathetic' (miserably or contemptibly inadequate)
----------------------------
COMMENTS:
I like this word more each time i see it. - metrohumanx, 2008-08-12: 14:45:00
----------------------------
Created by: Susiestar
Pronunciation: Com-pl-aze (as in days)
Sentence: You always complaze about things. Why don't you do something about them?
Etymology: Comp - from complain laze - from the verb "to laze"
Created by: mweinmann
Pronunciation: gro - nersha
Sentence: Jeremiah had to often listen to the groanertia around his office. He was tired of the same old complaints about things that anyone had the ability to remedy.
Etymology: groan, intertia
Created by: Katisms1
Pronunciation: wine-ER-sha
Sentence: Having perfected the fine art of complaining about everything and solving nothing, she could have run for Governor of the state of whinertia -- and won in a landslide.
Etymology: whine (and/or whiner) + inertia
Created by: toadstool57
Pronunciation: grouch-po-ta-toe
Sentence: David was a grouchpotato. He constantly complained but took no action and wound up with "secretary spread" on his hips.
Etymology: couch potato/grouch
----------------------------
COMMENTS:
His name was David, but everyone called him "Chip". - purpleartichokes, 2007-06-15: 09:38:00
Everyone wanted to sMASH him, PEEL strips off him. - petaj, 2007-06-15: 21:20:00
----------------------------
Voted For! | Comments and Points
Created by: purpleartichokes
Pronunciation: in-urk-shun
Sentence: The gals in the office belonged to the PissandMonaLisa Club - they all complained about the leaky faucet, but being prima donnas, felt it was someone else's job to report it. It was no big surprise when their inirktion turned the first floor into the new company swimming pool.
Etymology: inaction, irk
----------------------------
COMMENTS:
bad case of inerktia i'd say - galwaywegian, 2007-06-15: 05:57:00
It's words like these that help me find my inirk child. - Clayton, 2007-06-15: 07:58:00
----------------------------
Created by: serendipity9000
Pronunciation: gry-per-sha
Sentence: I started my new job hoping to help bring real change and fix real problems, instead all I found was gripertia.
Etymology: gripe + inertia