Verboticism: Plastastroke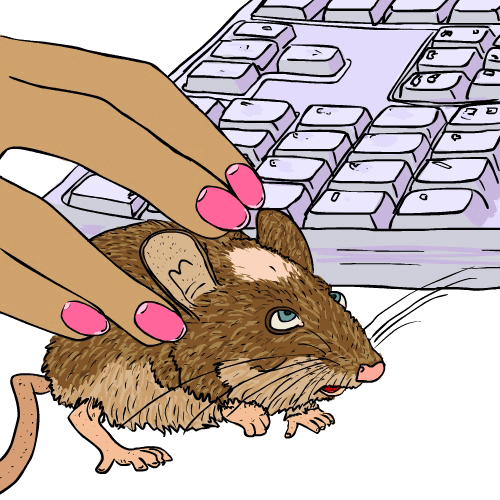 DEFINITION: n., A wear mark, or shiny spot, which appears on a heavily used computer touch-pad, mouse or keyboard. v., To wear down or erode through repetitive clicking, tapping or poking.
Already Voted
Vote not counted. We have already counted two anonymous votes from your network. If you haven't voted yet, you can login and then we will count your vote.
---
Plastastroke
You still have one vote left...
Created by: jkernen1
Pronunciation:
Sentence: The keyboard appeared old and a thin layer of fingerwax had been applied.
Etymology: finger + wax
Created by: Mustang
Pronunciation: hard-wayr
Sentence: Simon's friends referred to his keyboard, mouse and mousepad as his hardwear because of the excessive wear shown on them by his overly rough use.
Etymology: Blend of 'hard' and 'wear', a play on the word 'hardware'.
Created by: remistram
Pronunciation: kuhm-pyoo-buhf
Sentence: She compubuffed her keyboard so bright and shiny that she could almost she her reflection in each key.
Etymology: computer + buff (as in shine)
Created by: sipsoccer
Pronunciation: (shine-tal-lic)
Sentence: I see your mouse has a shinetalic spot on it from major usage.
Etymology: shine-bright,glows,shiny talic-part of metallic, which also means shiny.
Created by: nerdkiller
Pronunciation: point-o-pee-zia
Sentence: Sam scrolled through the entire Boingboing archive until his pointer had mouse pattern pointopecia.
Etymology: alopecia (baldness, pointer (pointing device)
Created by: libertybelle
Pronunciation: klick - pit
Sentence: I realized I was spending entirely too much time on-line playing those escape the room games when my 3 month old laptop had already developed a clickpit in the touch-pad.
Etymology: click -action of operating a mouse or touchpad + pit - small divot caused by repeated friction.
----------------------------
COMMENTS:
It has a satisfying sound to it. I like it. - astorey, 2008-10-17: 11:55:00
----------------------------
Created by: giIIyp
Pronunciation:
Sentence: Which key is that? N? M? I never know, they are both so nakey.
Etymology: I do not know why, but I wear out the N and M keys - my naked keys.
Created by: bzav1
Pronunciation: geek + polish
Sentence: Judging by the geekpolish on Jimmy's laptop, he had been spending a bit too much time on Facebook.
Etymology: Not to be confused with my Eastern European roots (geek Polish)
Created by: vmalcolm
Pronunciation: /al-uh-pad-shee-uh/
Sentence: "Does your owner tap on you like a beast? are you losing your hair and colour? Do no wait anymore! STOP IT NOW!!! By using our brand new product called Aminexpad!!! Try it out, or you'll be out!
Etymology: ALOPADCIA. From Alopecia (loss of hair; baldness) + Pad
----------------------------
COMMENTS:
very funny - Jabberwocky, 2008-10-17: 11:53:00
Zounds! - metrohumanx, 2008-10-17: 12:22:00
Hair-iffic! - Nosila, 2008-10-17: 22:25:00
clever - OZZIEBOB, 2008-10-19: 00:33:00
----------------------------
Created by: Nosila
Pronunciation: ee teer eeo rayt
Sentence: June's computer mouse was so worn it was in the terminal stages of eteriorate. She thumped on it so often everyday that it was in a permanent stage of AOLopecia.
Etymology: deteriorate (to fade away or worsen) & e-terior (electronic exterior) & ate (eaten away)