Verboticism: Rehashforgold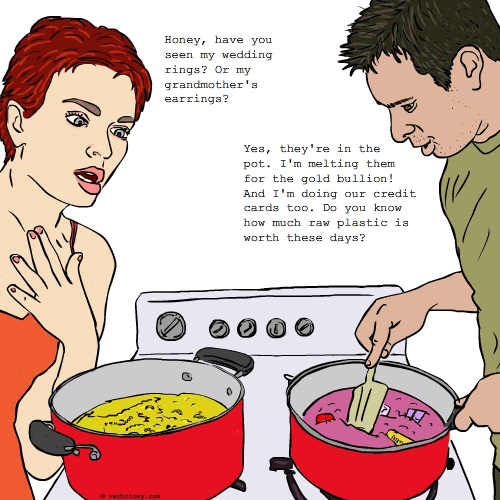 DEFINITION: n. The desire to convert items with sentimental value, like antique hand-crafted jewelery, back into the raw material, like gold bullion, to access its commercial value. v. To cash in something with sentimental value.
Voted For: Rehashforgold
Successfully added your vote for "Rehashforgold".
You still have one vote left...
Created by: Mustang
Pronunciation: re-cyc-loh-FO-bya
Sentence: Marshall had always been into recycling for environmental concerns but with the turndown in the economy he had become totally recyclophobic even going so far as to melt down family heirlooms, coin collections, and anything else he thought had even a remote chance of containing precious metals.
Etymology: Blend of 'recycle' (return metals etc to their natural state for reuse) and 'phobia' (phobic)(irrational fear)
Created by: mweinmann
Pronunciation: olden - golden - mold - ing
Sentence: Cleopatra practiced oldengoldenmolding as she collected all the jewels and precious metals of her ancestry; melted them down and sold them for to buy clothes and makeup.
Etymology: Olden, Golden and Molding
----------------------------
COMMENTS:
very good - Jabberwocky, 2009-04-08: 13:21:00
I bet she even melted the stuff she got from her Mummy! De Nile ain't just a river in Eqypt! Good One, mweinmann! - Nosila, 2009-04-08: 23:25:00
She should've hooked up with Rumplestiltskin! - metrohumanx, 2009-04-09: 02:36:00
----------------------------
Created by: remistram
Pronunciation: ing-go-stal-jah
Sentence: Her severe case of ingostalgia resulted in the creation of a new soup recipe, gold bullion mixed with beef bullion - bon appetit!
Etymology: ingot (as in chunk of gold or metal) + nostalgia
Created by: Biscotti
Pronunciation: R-aw-luv
Sentence: Alex was overcome with rawlove when he saw the price of gold go over $1000 an ounce, knowing that 5 of his 6 teeth had gold caps on them! He immediately used a pliers to yank them off and melted them in an old cast iron pan over the hobo barrel.
Etymology: Raw (basic, elemental materials) + love (desire, want)
Created by: bookowl
Pronunciation: ju/well/ur/ree/mixed/ee/moe/shuns
Sentence: It was with jerwelleremixedemotions that she melted down all her charms.
Etymology: jewellery + re mix + mixed emotions
Created by: splendiction
Pronunciation: kit chen mint ing
Sentence: His kitchenminting of gold jewelry into goldingots and other pieces of the stable currency, gold, was a response to the terrible stagflation in the economy. The plastic he used from credit cards, however, had no real "monetary" value. Melting credit cards in the kitchenminting process was symboilic of a return to really valuable forms of wealth, like gold. Tomorrow he would commence kitchenminting silverware into silver coinage.
Etymology: From kitchen (cooking area) and mint (where money is made). Kitchenmints derive gold into gold bars for the wealthy. Kitchenminting among the middleincomers is gaining in popularity; effected by the current economic downturn, families turn to liquifying assets like jewelry to purchase food, clothes, and other necessities.
----------------------------
COMMENTS:
Melting the coinage was quite an affliction- the words they were melted by one called Splemdiction! - metrohumanx, 2009-04-09: 02:45:00
----------------------------
Created by: Nosila
Pronunciation: smel tim ent
Sentence: Roy surptised Rachel by throwing all her inherited jewellery into a pot on the stove to extract the precious metals. His smeltiment towards her prized antiques quickly turned to confusion. Seems they made fakes in the old days, too and she ended up with a sentimelted blob in her good cooking pots and nothing to remember Grandma by...Roy turned out to be an alchemissed.
Etymology: Smelt (extract metals by heating) & Sentiment (tender, romantic, or nostalgic feeling or emotion)
Created by: jamestsmith70
Pronunciation:
Sentence:
Etymology:
Created by: readerwriter
Pronunciation: pahn-der
Sentence: Prudence wondered exactly what her husband, Frivolous, meant when she asked where her precious jewels had gone. He said, "I'll have to pawnder that for a while."
Etymology: A play on PONDER, to think about carefully + PAWN, something given to another as security for a loan; other uses: pawndering (n.) Ex: When Prudence found the receipt from Hock N Pocket she knew her precious jewels were the reason for Frivolous's nightly pawndering.
----------------------------
COMMENTS:
Ex-sell-ent! - silveryaspen, 2009-04-08: 07:27:00
Old FRIV was full of bullion, EH? - metrohumanx, 2009-04-09: 02:39:00
----------------------------
Created by: Nosila
Pronunciation: felt kem mee
Sentence: Georgia was horrified to come home and find that her husband, Nat had taken all her antique, fine gold jewellery and placed it in a saucepan to try and melt it down into gold ingots. "What kind of feltchemy are you practising?" she lamented. "Relax, Precious", he smirked..."I am just cooking up some Karat soup for us"!
Etymology: Felt (to feel;to have sensed) & Alchemy (ancient chemistry practice to try and change base metals into gold)