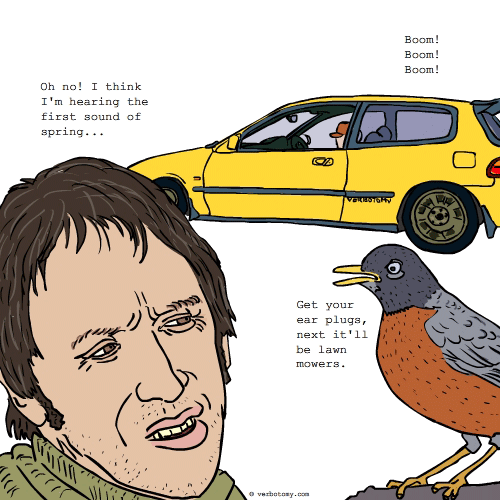 DEFINITION: v. To drive around in your car with the widows down and stereo blaring. n. The sounds emanating from the suped-up vehicles driven by strutting human males as they participate their annual spring mating rituals.
Voted For: Vroombox
Successfully added your vote for "Vroombox".
You still have one vote left...
Created by: bookowl
Pronunciation: freek/kwench/eez
Sentence: The horrific sounds blasting from the car could only be described as freakquenchies.
Etymology: freak + quench + frequency
Created by: readerwriter
Pronunciation: boh-guhn-vee-yuh
Sentence: It was Spring and everything was blooming and booming, including the boganvilla, those townie-boy-racers with their staymen and pistols by their sides, showing off the power of their pedals.
Etymology: Playing on BOUGANVILLIA, the flowering plant native to the Southern climes. Combing BOGAN, a boy racer from Down Under + VILLA, Spanish for TOWN
Created by: abrakadeborah
Pronunciation: blare-e-oh
Sentence: You could always tell when Billy Boombastic was in the neighborhood... his boom,boom blarieoh was turned wide open for all to hear.
Etymology: Blare - to sound loudly and harshly. Oh! - an exclamation expressive of surprise pain pleasure etc.
Created by: silveryaspen
Pronunciation: come motions
Sentence: It wasn't a low-rider, but a loud-rider tunebuggy, Teenie was stearing down the streets. The amplifliers sent everything on the dash flying. Only his seat belt kept the constant sonic booms from sending Teenie flying. He rolled along with woofears and tweetears blaring, a deaf-defying menace loose on the streets. I'm so sick of the these comemotions all over the streets. I've written my state representatives to introduce a law to make all these comemotions disalloud.
Etymology: COME, COMMOTIONS. Come - as in approach, which is what vehicles do as they move down the streets. Commotion - a ruckus: a scene of noisy confusion or activity, which is what such vehicles with deafening sound systems are. - - - Might as well throw in MOTIONS - for all the movements involved, including those to try to get away from these comemotions!
----------------------------
COMMENTS:
No song of the day ... we all need ear plugs today! - silveryaspen, 2009-03-24: 01:42:00
I totally relate to this....so annoying. - mweinmann, 2009-03-24: 08:35:00
just imagine how many people will have significant hearing loss in the future - Jabberwocky, 2009-03-24: 11:05:00
----------------------------
Created by: mrskellyscl
Pronunciation: tes-toss-teh-moan-i-um
Sentence: Every spring young dudes are gripped by the pangs of testostemonium, exhibited by driving 50 mph in a school zone, blaring teenage angst music until their speakers blow up, and acting out "Rebel Without a Cause." They do this because testostemonium convinces them that this attention seeking behavior actually impresses potential mates. In reality this behavior does nothing to increase their desirability to the opposite sex and actually has the counter effect of impressing other single males who want to sit in front of a television and drink beer.
Etymology: testosterone: male sex hormone responsible for male characteristics + pandemonium: very noisy place; a wild, chaotic, noisy uproar; the abode of demons
----------------------------
COMMENTS:
nice - galwaywegian, 2010-10-06: 11:54:00
----------------------------
Created by: Nosila
Pronunciation: fal loom
Sentence: The annual spring mating ritual of the young male human starts as soon as the snow melts. Many a souped up vehicle, usually bright and shiny in colour with loads of added on parts and noises starts the migratory prowl. Up and down beach fronts, main drags and in front of malls, fast food places and other areas where the female of the species may congregate. The phalloom of this annual display of muscle can be heard each day and night for several weeks until school goes back in September.
Etymology: Phallic (relating to a phallus especially as an embodiment of generative power;the male organ of copulation) & Voom (sound a car motor makes when revving up)
Created by: artr
Pronunciation: kärkäfənē
Sentence: When the high school held a car show they were ready to see some extreme cars. What they weren't expecting was the accompanying carcophony. Much of the money raised at the event was used to replace the windows of the school cracked by the boosted sound systems.
Etymology: car (a road vehicle, typically with four wheels, powered by an internal combustion engine and able to carry a small number of people) + cacophony (a harsh, discordant mixture of sounds)
----------------------------
COMMENTS:
good one - galwaywegian, 2010-10-06: 11:55:00
----------------------------
Created by: mrskellyscl
Pronunciation: test-oster-ackit
Sentence: In the spring, young human males, wanting to advertise their prowess and improve their chances of successfully attracting females, will compete for dominance with other males by creating the most impressive testosteracket with their hoopdies.
Etymology: testosterone (male hormone) racket (unpleasant noise)
Created by: Nosila
Pronunciation: kar ka fony
Sentence: On Main Street on a warm spirng's night, all we ever hear is the carcophony of young males, roaming around in their souped up cars, looking for girls and/or trouble...
Etymology: Car (vehicle,auto) & Cacophony (a loud harsh or strident noise)
----------------------------
COMMENTS:
Ha ha! love it! this needs to be a real word! - libertybelle, 2012-03-05: 10:23:00
----------------------------
Created by: BoltonAlan
Pronunciation: More-rack-et-tour
Sentence: Spring must be in the air, the local boy racers have started their moracketour
Etymology: Moron - A stupid person; a dolt. Racket - A loud distressing noise. Tour - To travel from place to place, especially for pleasure.