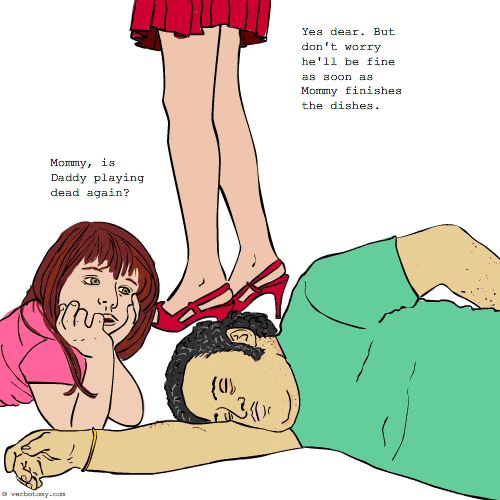 DEFINITION: v. To be physically overcome by a sudden illness, disability, or even death when asked to participate in unrewarding activities -- like work, or household chores. n. A person who gets sick when asked to work.
Already Voted
Vote not counted. We have already counted two anonymous votes from your network. If you haven't voted yet, you can login and then we will count your vote.
---
Taskoidance
You still have one vote left...
Created by: Edburns
Pronunciation:
Sentence: The young toddler was flamboozled after his mother asked him to take out the trash.
Etymology:
Created by: artr
Pronunciation: vig-er-mawr-tis
Sentence: Tony is an active, if slightly paunchy, dad. He plays with the kids. He even rides his bike a couple days a week. A strange affliction hits him when household chores are mentioned. He immediately comes down with acute vigormortis, a condition where all energy drains from his body to the point that he can barely lift a finger. The cure comes as quickly as it manifests as soon as the chore is complete or even assigned to someone else.
Etymology: vigor (healthy physical or mental energy or power; vitality) + rigor mortis (the stiffening of the body after death)
Created by: Lonflobber
Pronunciation: Mort-a-chore-ay
Sentence: Donald was suffering from an acute case of mortachore due to his wife's incessant nagging.
Etymology: "Morte"from the Italian for death, and "chore", a routine task
Created by: MrLint
Pronunciation:
Sentence:
Etymology: Acute inflammation of the responsibility gland
Created by: jannn
Pronunciation:
Sentence:
Etymology:
Created by: gabngar
Pronunciation: Lay-bore-con-dree-uh
Sentence: Charley's laborcondria kicked in whenever he had to do his chores.
Etymology: Labor (work) + -condria (hypocondria)
Created by: antonhere
Pronunciation:
Sentence:
Etymology: deadly worked
Created by: sleep
Pronunciation: as it looks
Sentence: As Tom crawled into bed, he watched in horror as his wife had a slackotic siezure.
Etymology: slack + psychosis
Created by: Drooboy
Pronunciation: I-dull-ah-ps
Sentence: Brian suffered a devastating idleapse when confronted with the dishes.
Etymology:
Created by: electronicfly
Pronunciation:
Sentence:
Etymology: