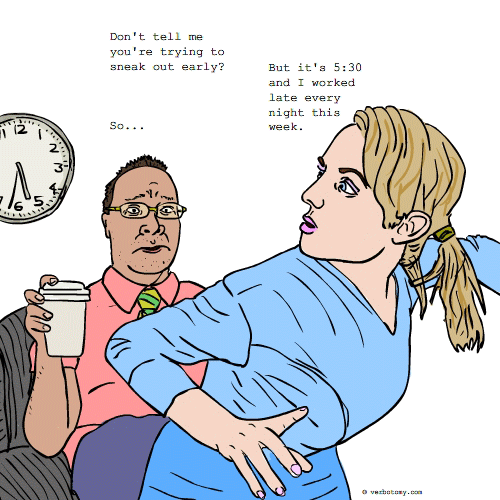 DEFINITION: n. A type of frustration created by a manager who never notices when you work late, but always nags you for leaving early whenever you leave on time. v. To carefully monitor your subordinates to ensure that they never leave work a minute early.
Voted For: Clockjock
Successfully added your vote for "Clockjock".
You still have one vote left...
Created by: Nosila
Pronunciation: o bay weatch
Sentence: Mr.Smedley fancied himself a dedicated disciple of the obeywatch old school of management. He decided that those employees who had the misfortune to report to him were not to be trusted with important things like personal time management. Far too often they let their personal lives get in the way of being at work. Imagine calling in sick and failing to come in just because you broke a leg or had minor surgery, like an appendicitis. Where was the loyalty these days? So what if there were days they worked for 12 hours straight and other days when the work flow slowed down? He still expected them to be there 9 to 5, without exception. He positioned his desk near the time clocks, so no one could sneak out past him. He recorded all these indiscretions in a black book. Needless to say, morale was at an all time low and fuses were getting shorter at such treatment. One of these days, someone would go postal and punch out his time clock permanently!
Etymology: obey (be obedient to) & watch (a purposeful surveillance to guard or observe;a small portable timepiece;a person employed to watch for something to happen) & Baywatch(you know,that show, where Hoff says, "Hey we gotta save that guy!" and Pamela goes boing, boing, boing running down the beach after him carrying that red thing...)
----------------------------
COMMENTS:
That's hard to beat - petaj, 2008-04-23: 02:50:00
I guess the "mean" in 'GMT' meant everything to him! Very clever. - OZZIEBOB, 2008-04-23: 06:25:00
----------------------------
Created by: ErWenn
Pronunciation: /ˈnɪtˌtɪkɚ/
Sentence: I don't mean to be a nitticker, but when you say that my pizza will be here in 30 minutes or less, do you mean from now, or from the time I called?
Etymology: from nitpicker + tick (as in a clock)
----------------------------
COMMENTS:
great word ErWenn - Jabberwocky, 2008-04-23: 14:46:00
Very good word. - OZZIEBOB, 2008-04-23: 17:48:00
----------------------------
Created by: Jabberwocky
Pronunciation: micro/man/ger/ment
Sentence: Sue felt overwhelming micromangerment when her boss never saw the big picture but always obsessed about ridiculous aspects of the job like clock watching.
Etymology: micromanagement + anger
----------------------------
COMMENTS:
Nice word: sorta has a "dog in the manger" feel about it! - OZZIEBOB, 2008-04-23: 17:42:00
----------------------------
Created by: artr
Pronunciation: kruh-nol-oh-ger
Sentence: Cindy's boss can be a real chronologre when he wants to be. He acts like you are stealing from him personally if you clock out even a minute early. Maybe if he had the skill or drive to do something really useful life would be different.
Etymology: chronology (the arrangement of dates, events, etc, in order of occurrence) + ogre (a monstrously ugly, cruel, or barbarous person)
Created by: stache
Pronunciation: slak'-ər-vīz'
Sentence: Fred's secretary Ethel had arrived seventy-seven seconds past her forty-minute allotted lunch period, so Fred made sure to slackervise even more diligently than usual to insure she made up the time at actual work before leaving for the evening; at her claimed typing speed of 110 wpm, that should work out to an extra 141.16667 words for the day.
Etymology: 'slacker,' less taut; 'vise,' device for holding objects firmly in place.
----------------------------
COMMENTS:
Nice word! - OZZIEBOB, 2008-04-23: 17:50:00
----------------------------
Created by: Nosila
Pronunciation: klok jok
Sentence: Hal was a clockjock. He eyed his staff like a hungry lion at a zebra watering hole. If they tried to sneak away early, he'd confront them to the point, they'd never do it again. One day, young Mindy raced to the door to escape and was caught by Hal. "Where do you think you are going?" he charged. "My water broke and I need to get to hospital." she cried. "Nice try", he countered. "You've been here long enough to know that all deliveries are made at the rear of the building, after 6:00 p.m.".
Etymology: Clock (a timepiece that shows the time of day) & Jock (a person trained to compete)
----------------------------
COMMENTS:
"...deliveries are made at the rear of the building, after 6:00 p.m." - HA - priceless - karenanne, 2010-06-29: 19:43:00
----------------------------
Voted For! | Comments and Points
Created by: Mustang
Pronunciation: Snew-per-vize
Sentence: Melody was definitely a hands on snoopervisor who monitored every aspect of her subordinates daily activities, even making note of their bathroom breaks, trips to the water cooler and time spent on the phones.
Etymology: Blend of 'snoop' (nosy person) and 'supervise' (be in charge)
Created by: artr
Pronunciation: lātkēpər
Sentence: The rule at Jill's office is to calculate time cards in 15-minute increments. What that often means is that her boss, will engage her in a conversation for 14 minutes past her scheduled work day. The other trick that this latekeeper will employ is to wait until he hears the click of the time clock to exit his office to ask for a progress report on her various projects.
Etymology: late (doing something or taking place after the expected, proper, or usual time) + gatekeeper (a person or thing that controls access to something)
Created by: petaj
Pronunciation: tick - off
Sentence: We turn a blind eye to staff showing up early to work but we are rigorous about tickoff procedures and plan to appoint a manager to ensure that all staff are ticked off in an efficient and pleasant manner.
Etymology: tick (of the clock) off (as in off home, sign off, off the clock) ticked off (pissed off) tick off (cross off the list as each subordinate leaves the office)
Created by: mweinmann
Pronunciation: min - ut - jer
Sentence: Clyde was a brutal minutger. No matter how many hours his employees worked, he monitored every minute that they spent going to the bathroom, eating lunch, or talking to customers. He wanted to make sure that not a minute was ever wasted
Etymology: minute, manager