Verboticism: Hypacleaniac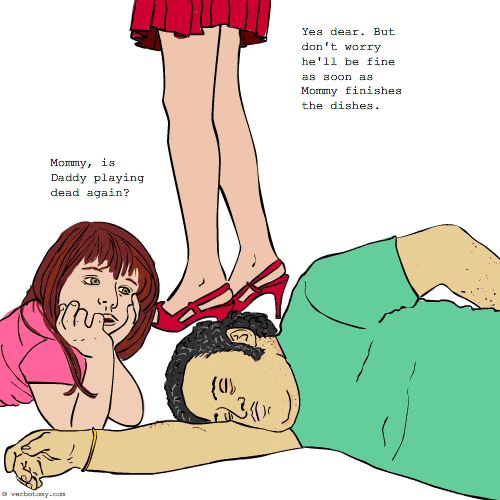 DEFINITION: v. To be physically overcome by a sudden illness, disability, or even death when asked to participate in unrewarding activities -- like work, or household chores. n. A person who gets sick when asked to work.
Voted For: Hypacleaniac
Successfully added your vote for "Hypacleaniac".
You still have one vote left...
Created by: taburasa
Pronunciation: work/o/lep/sy (long o sound in second syllable)
Sentence: When things need to be done you can count on his workolepsy disorder to kick in.
Etymology: work + narcolepsy
Created by: squirrelian
Pronunciation: possify
Sentence: If Bill comes looking for volunteers just possify until he goes away.
Etymology: derived from "playing possum" combined with "ossify"
Created by: drakkendan
Pronunciation: chore-a-fobia
Sentence: He is suffering from choraphobia
Etymology:
Created by: lebeast
Pronunciation: lay-zick
Sentence: After learning she had to cook for 234 guests that evening, she became very lazick, and unable to complete the task at hand.
Etymology: lazy+sick
Created by: markfenn
Pronunciation:
Sentence:
Etymology:
Created by: Lyokia
Pronunciation: Ort-a-tyze
Sentence: He ortatized as soon as he heard the word "dishes".
Etymology:
Created by: jannn
Pronunciation:
Sentence:
Etymology:
Created by: symemac
Pronunciation: Do-mesti-sightis
Sentence: Brad came down with domesticitis as soon as soon as he came back from a hard day at the track.
Etymology: Romans used to use this term when building their city. Anyone suffering from said illness was sent to the rack.
Created by: Trystera
Pronunciation: im-PAHS-some
Sentence: Shortly after Sarah asked Bernard to mow the lawn, she found him bedridden, playing impossum.
Etymology: Possum: Latin verb meaning "to be able" Im-: prefix meaning "not" "playing possum" : a defensive tactic of pretending to be dead so that predators have no interest in attacking
Created by: zardoz
Pronunciation:
Sentence:
Etymology: