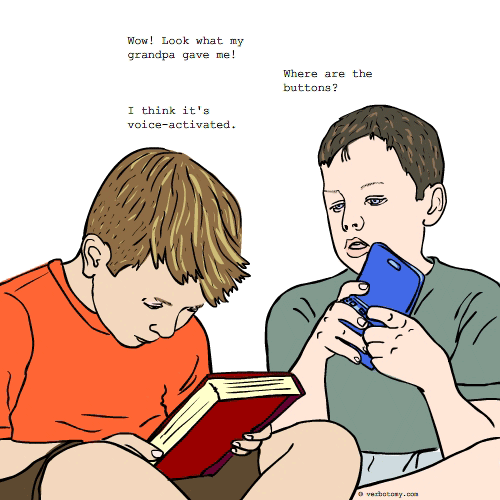 DEFINITION: n. An old media format that is no longer popular or easily accessible, such as floppy disks, VHS tapes or stone tablets. v. To try to access data stored in an old-fashioned media format, especially it requires the use archaic technology and/or protocols.
Already Voted
Vote not counted. We have already counted two anonymous votes from your network. If you haven't voted yet, you can login and then we will count your vote.
---
Gadjettison
You still have one vote left...
Created by: Nosila
Pronunciation: pas say im pur fect
Sentence: Young Billy adored his grandfather and loved it when the old geezer told him stories about the passéimperfect. He knew his grandpa made this stuff up, but he loved to hear about the good old days anyway and in particular about the ancient tools they used. He regaled Billy with yarns about how his phone had numbers that went round and round when he stuck his finger in the holes for each set of numbers. Grandpa also told him about watching tv shows on the one channel in black & white and for some reason you needed a rabbit's ears to see the tiny picture better. (As if!) He also told him of cooking without using a microwave (yeah, right!) and buying big blocks of ice to keep everything in the fridge cold (you've got to be kidding!). That crazy Grandpa, he told Billy that a log on was something you put on a bonfire and that a link was something you put on your sleeves to keep the cuffs closed. He said a password was something you spoke into a grill on a door to get into a speak-easy (must be some kind of spellcheck for voice actioned computers?) Billy loved the really old things that Grandpa gave him. Like most boys his age, he loved dinosaurs. He was so excited today, because Grandpa was coming over and bringing him a thesaurus...he couldn't wait to play with it!
Etymology: passé (out of fashion) & past imperfect (grammar: tense imperfect refers to an action that is uncompleted or abandoned)
----------------------------
COMMENTS:
Rrrawr! Oh no, here comes the fierce Thesaurus Rex!... That's hilarious. - Tigger, 2008-03-14: 03:09:00
All that was makes me curious about what is to come! Great etymology ... conveys the way passages from the old ... lead to the knew ... growing, evolving, better and better ... perfecting! A Perfectly wonderful sentence and word! - silveryaspen, 2008-03-14: 17:08:00
Thanks, Tigger & silveryaspen. I always thought the best name for the Toronto NBA Team was TorontoSaurus Wrecks...but no one would listen... - Nosila, 2008-03-14: 23:16:00
----------------------------
Created by: Mustang
Pronunciation: ret - ro - surf
Sentence: Having only their granddad's discarded computer to rely on Delbert and Javier had no choice but to resort to retrosurfing method of finding information.
Etymology: Retro + surf
----------------------------
COMMENTS:
What a lot of retrosurfing has been done here today! Great angle! Great word! - silveryaspen, 2008-03-14: 18:41:00
----------------------------
Created by: silveryaspen
Pronunciation: gadg jettison
Sentence: Gadgets evolve so quickly, that those of today, are outdated tomorrow, and become gadjettisons.
Etymology: GADGETS, JETTISON. GADGETS - machines, objects, things. JETTISON - throw out, get rid of, abandon, discard, ditch, chuck, dump, chuck out
----------------------------
COMMENTS:
Egad! another top word! - galwaywegian, 2009-01-07: 12:05:00
great combo - Jabberwocky, 2009-01-07: 14:23:00
----------------------------
Created by: justacrosshair
Pronunciation: an-tek
Sentence: "A cassette tape? Sorry, we don't stock antechques."
Etymology: antique (old); tech (man made)
Created by: bigveg
Pronunciation: har-mee-dee-um
Sentence: son: dad, the kitten chewed my new shoes! father: here son, execute him with this laserdisc! son: nice harmedium dad! dad: i know
Etymology: harm, medium.
----------------------------
COMMENTS:
Evokes lots of different thoughts! Wonderful originality! - silveryaspen, 2008-03-14: 18:01:00
----------------------------
Created by: Banky
Pronunciation: row-set-tah-store-ridge
Sentence: Alex was fixated on amassing the largest collection of rosettastored modern media in the known world. The crown jewels in his menagerie were wax cylinders of Nine Inch Nails' "The Downward Spiral", "The Godfather Part III" presented in a swimming pool sized Zoetrope, and the painstaking and somewhat ironic translation of "The Mummy" in handpainted hieroglyphics. He would take various tour groups through the displays, pointing out the 8400 5 1/4" floppy disk download of the Wikipedia database on the left, the Russian woodcarvings of "Rocky IV" (mostly featuring gilded images of Drago as a werebear), and a series of dangerous pop-up books chronicling late 1970s blaxploitation pornography. Twice daily he would present various skits on a weekly rotating schedule; retellings of Judith Light Lifetime movies of the week in comedia dell'arte Punch and Judy shows, morality plays based on "Snow White" with wildly different dwarves, epic poems in which he related the trials and travels of Richard Branson, and on special occasions would present weeklong mesquite fueled smoke-signal presentations of Cormac McCarthy novels. His latest undertaking, an exhibit of "Norbit" on a series of Grecian urns was expected within the week.
Etymology: Rosetta stone - the large granite stone found by the French in 1799 which facilitated the deciperhing of Egyptian hieroglyphics + storage
----------------------------
COMMENTS:
Great word, awesome sentence! - Jamagra, 2008-03-14: 11:21:00
Great word, awesome sentence! - Jamagra, 2008-03-14: 13:06:00
Wow!! - Jabberwocky, 2008-03-14: 14:16:00
Marvelous! - silveryaspen, 2008-03-14: 17:58:00
Love the use of "rosseta". Great sentence,also. - OZZIEBOB, 2008-03-16: 17:06:00
----------------------------
Created by: Jamagra
Pronunciation: ster'/e/o/lith
Sentence: Jacob cringed in embarrassment at every soccer game. When would his parents get rid of that stereolithic camera they had and get with the digital age? It was completely humiliating... especially when the flip flash blinded his teammates just as they tried to score a goal.
Etymology: stereo - three dimensional (as in stereoscopic photography & stereotype print); also stereophonic sound reproduction + monolith - something formed of a single slab of stone
----------------------------
COMMENTS:
Innovative etymology and word. Well done! - silveryaspen, 2008-03-14: 18:03:00
----------------------------
Created by: silveryaspen
Pronunciation: de - fund - shun - als
Sentence: Humans have been inventing ways to store funds of knowledge from before the stone age to the present. Stone carvings, paper, books, pictures, vinyl records, tapes, disks, computer memory banks, data servers, ipods, blackberries, etc. We keep them all, though we seldom use the archaic ones. Was the first cosmic fund of knowledge written in the stars? Will the last fund of cosmic knowedge be written in the stars? Perhaps all these others in-between, are, were, and always have been, mere defundtionals.
Etymology: Fund, Defunctional. Fund: sources of things stored or saved. Defunctional: no longer used, operative, or functional.
----------------------------
COMMENTS:
philosophical one - bigveg, 2008-03-14: 03:04:00
So, what you are saying is that every idea ever related by mankind are somehow stored in the universe. The last words spoken by Amelia Earhart may be recorded in the sand of an isolated atoll somewhere, the waves of her voice rearranging the particles of sand that lay beneath her contorted face as she met her end. The lost works of Chaucer could be reclaimed from the atomic impressions remaining on a rotting desk from the 14th century. The library at Alexandria could be reconstructed from a million fragments of ashen scrolls with the ability to distinguish ink from charcoal, and vast arrays of computers to reassemble the fragments into complete manuscripts. Every electromagnetic conveyance of media ever produced can be reclaimed from the stars if we can overcome the speed of light in order to catch up to it, as it travels through the vast emptiness of space. The only idea that can never be successfully reclaimed is the idea that is never communicated, so long as we can use our intellect in pursuit of the technology to recover that information. The possibility of mankind is limitl...whoops, gotta go, American Idol is on! - Banky, 2008-03-14: 10:23:00
Nice word :) - Banky, 2008-03-14: 10:24:00
Maybe planned obsolescence is in our DNA? - arrrteest, 2008-03-14: 13:21:00
I think there may be a book in this one - Jabberwocky, 2008-03-14: 14:03:00
Wow! Never expected so many comments on my two QUEST-tionings! It was asked in a much lighter vein than it was received! Banky, you read so much more into those two little questions!!! But here's another question for what ever you all want to see in it. Do our subconscious minds tap into an ethereal storage bank of all knowledge in the universe, then come up with bits of knowledge and solutions our conscious minds couldn't find ... and then place that in our conscious minds? I'll leave the book writing up to Banky and Nosila. I just have questions ... for me, life is but a quest for more about all things. I'm just grateful for how much easier it is to access all information in all the various media! But at the rate it is growing ... there is no such thing as all-knowing among us mere mortals. You're right Jabberwocky ... a book ... maybe many books!!! (wink/big smile). - silveryaspen, 2008-03-14: 16:58:00
Nice word;thought provoking sentence! - OZZIEBOB, 2008-03-16: 17:03:00
----------------------------
Created by: monkeyhouse
Pronunciation: bay-tuh-fy-d
Sentence: DVDs are being betafied by Blu-ray.
Etymology: "Beta-" from Betamax, "-fy" ending for "make/form into"
Created by: karenanne
Pronunciation: tek STINCT
Sentence: Why is it that the VHS video format is considered boring and old-fashioned, while both the Beta tapes and the Beta machines required to play them, which are even older, are now considered "retro" and "cute?" I guess the closer something gets to becoming techstinct, the cooler it becomes for collectors due to its rarity.
Etymology: tech + extinct