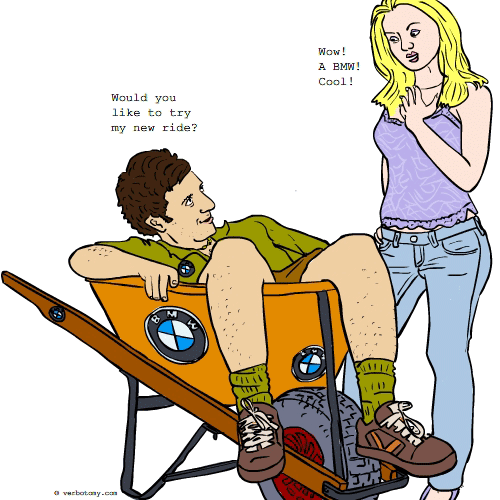 DEFINITION: v. To purchase a low-cost product and cover it with the label, or put it inside the packaging of a premium brand. n. A cheap product, which has been repackaged, or relabeled, by the consumer to make it look like an expensive brand.
Already Voted
Vote not counted. We have already counted two anonymous votes from your network. If you haven't voted yet, you can login and then we will count your vote.
---
Masqcharade
You still have one vote left...
Created by: petaj
Pronunciation: 24 carat
Sentence: Merle's twentyfourcarrot was placed in an authentic Givenchy paper bag and carefully placed, though casually arranged, where her visitors would not miss it. Inside the bag sat a tangerine k-mart scarf.
Etymology: 24 carat (pure gold) + carrot (golden coloured, garden variety vegetable)
----------------------------
COMMENTS:
Love the pun. Sentence great nonsense fun! You get a special ( its 24Carrots) medal for this creation! - silveryaspen, 2008-03-03: 09:41:00
great - galwaywegian, 2008-03-03: 13:29:00
----------------------------
Created by: Stevenson0
Pronunciation: crap/sim/i/lee
Sentence: Most products from that particular country are a crapsimile of the original product.
Etymology: crap + facsimile
----------------------------
COMMENTS:
Very good! - Mustang, 2008-03-03: 18:44:00
This one put a 'simile' on my face when I read it. Nice! - Tigger, 2008-03-03: 21:54:00
Great sentence! Great word! - silveryaspen, 2008-03-03: 22:38:00
----------------------------
Created by: idavecook
Pronunciation: Chris Miss
Sentence: I was so excited when I unwrapped my gift from Charles. The blue bag could only mean one thing! It was high fashion jewelry! I peeked inside and to my surprise, there was a price tag from a different store and CZ sticker on the ring, I just hate Christmiss!
Etymology: Christmas + Dumb people
Created by: XMbIPb
Pronunciation: /lo-go-bo-gus/
Sentence: Q.: "I heard you broke up with Wendy. What gives?" A.: "Couldn't stand that LOGOBOGUS bubblehead. I mean so she's into the Italian designer labels. OK. I've put up with that. So she can't afford to buy the real stuff and has to settle for cheap knock-offs. OK. I've put up with that too. But you can't buy stuff that spells 'Gucci' with a 'C' and an 'H' and then brag about it!!!"
Etymology: LOGO – (fr. Greek 'logos' – word) a trademark image (e.g. Michelin Man, McDonald's golden arches); BOGUS – (modern slang) fake, false, phony, counterfeit, sham
Created by: 584642
Pronunciation: sub- leb-ing
Sentence: He was clearly sublabing when he tried to sell the knock off subaru when it was clearly of phillipian brand.
Etymology: sub- below lab- to take, sieze ing- the act of
Created by: Bewildertrix
Pronunciation:
Sentence:
Etymology:
----------------------------
COMMENTS:
Very interesting. Wish you had given us a sentence and etymology. You get points for each item you complete! Sometimes more is better! - silveryaspen, 2008-03-03: 22:59:00
----------------------------
Created by: sharktrager
Pronunciation: TREND-eeyore
Sentence: She knew how to make her handbag trendior just by adding diamonte stickers and removing the Pound Shop receipt.
Etymology: From trendy and Dior
----------------------------
COMMENTS:
Wonderful choice of words, wonderful blendfit, too! eeyore in the pronounciation got me chuckling and seeing donkeys ... then your sentence polished the chuckles into a laughing fit. Fun! Exceptional! - silveryaspen, 2008-03-03: 22:43:00
Thanks silvery - very happy to have made you laugh. - sharktrager, 2008-03-04: 16:07:00
----------------------------
Created by: Jabberwocky
Pronunciation: kloana/fide
Sentence: With her Louis Fruiton bag and her Oscar de la rental dress she was a clonafide member of the shampagne set.
Etymology: clone + bona fide
----------------------------
COMMENTS:
Not bad. Latin pronunciation would be KLONE a FEE day. - stache, 2008-03-03: 07:17:00
Four hysterically funny verboticisims in one short sentence! And all four fit the definition. Your sentence is superbly ingenious ... and superbly funny! - silveryaspen, 2008-03-03: 09:28:00
Really good word! - OZZIEBOB, 2008-03-03: 18:37:00
Fantastic blend! I really like 'Oscar de la rental' too. - Tigger, 2008-03-03: 21:38:00
----------------------------
Created by: kateinkorea
Pronunciation: BRAN der die ZA shun
Sentence: The brandardization of any product is of course a compliment, as imitation is the sincerest form of flattery.
Etymology: similar to bastardization, but a copy of a famous brand
Created by: amigamark
Pronunciation: dee-pruss-el
Sentence: Chav Scally used the classic deprustle at car boot sales to defraud punters, by filling empty Mandate aftershave bottles with cold tea.
Etymology: Originally a chav slang word made up for "Brand Piracy" and evolved from shortening Russell Brand and Johnny Depp.
----------------------------
COMMENTS:
In the know and in the know! Your creation is right-up-to-date great! - silveryaspen, 2008-03-03: 09:30:00
First 3 words should be "In the NOW" ... I can't type today! 40 lashes for me ... but only with a wet noodle, please! - silveryaspen, 2008-03-03: 09:32:00
I like this word. - OZZIEBOB, 2008-03-03: 18:40:00
----------------------------
Voted For! | Comments and Points