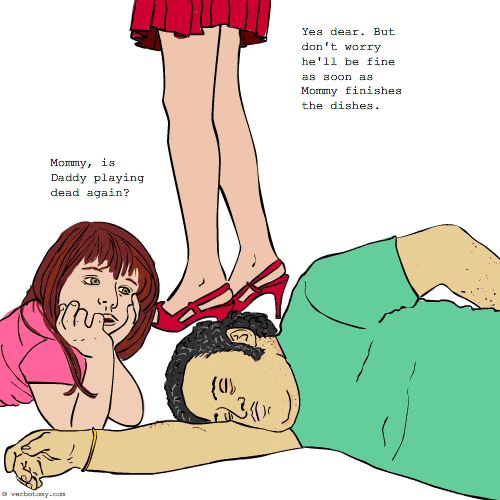 DEFINITION: v. To be physically overcome by a sudden illness, disability, or even death when asked to participate in unrewarding activities -- like work, or household chores. n. A person who gets sick when asked to work.
Already Voted
Vote not counted. We have already counted two anonymous votes from your network. If you haven't voted yet, you can login and then we will count your vote.
---
Impossumate
You still have one vote left...
Created by: TheBocaj
Pronunciation: DOWN-for-thuh-KOUN-tuh-BIL-i-tee
Sentence: Steve was asked to clean his room on Saturday; however, when his mother checked up on him at lunchtime, she discovered he had contracted yet another case of downforthecontability, which put him out of commission until dinner was served.
Etymology: To be out for the fight [down for the count] when others are relying on you [accountability]
Created by: Divakar
Pronunciation: diss-EMP-trint
Sentence: John the slacker quickly became disemptrant when his girlfriend Jill asked him to clean the apartment.
Etymology: dis (not) + employer (french for "employ")
Created by: irishka
Pronunciation:
Sentence:
Etymology:
Created by: wysware
Pronunciation: take-par-ta-tack
Sentence: When asked to contribute I had a sudden takepartattack
Etymology: take part (join in; contribute) attack (coronary)
Created by: stormee
Pronunciation: task-a-foebee-ism
Sentence: Her husband had a sudden attack of taskaphoiyism when it came time to mow the lawn.
Etymology: A sudden illness related to task related work.
Created by: Hindolbittern
Pronunciation:
Sentence:
Etymology:
Created by: J03Yvanalstyne
Pronunciation:
Sentence:
Etymology:
Created by: BrakX
Pronunciation:
Sentence:
Etymology: Dodge (or skip outta) + possum (like playin possum)
Created by: logan260
Pronunciation: ex-ur-shun-to-sis
Sentence: your dad is suffering from exertiontosis again but he should be feeling better after we clean the house.
Etymology: exertion: to expend energy performing a task. tosis: suffix for physical afflictions.
Created by: jstrange
Pronunciation:
Sentence: Tom was always out buying new clothes since he was drudgephobic and could never do laundry.
Etymology: