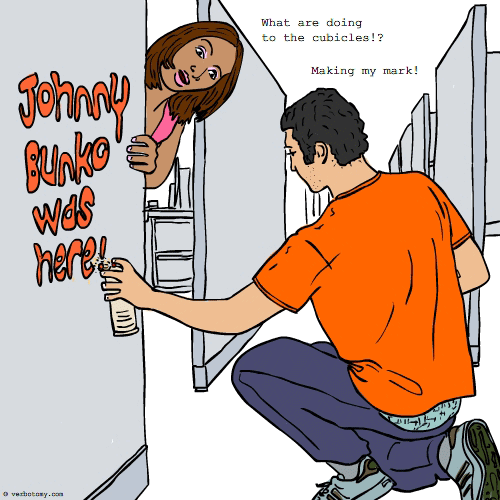 DEFINITION: v. To create an impression that you have made a positive contribution, especially when related to career activities. n. A personal mark or imprint which proves that you have done something that matters.
Voted For: Carearmark
Successfully added your vote for "Carearmark".
You still have one vote left...
Created by: arrrteest
Pronunciation: jahb-eh-fakt
Sentence: Johnny left little jobifacts around the office to look like he was busy working. He would leave papers by the printer of drafts of written work, he would save and stack his telephone messages (real and made up ones, mind you) on his desk, and left emails of his work exploits. He would often start sentences like, "You know Bob, I've been thinking about this . . ." or "What's been bothering me, Florence, about the Dithers' case is . . ." He constantly asked his co-workers if he could borrow their White-Out, extra large paper clips, or staples because he just "ran out." Whenever a report came out that had his name on it, he would post it on the staff bulletin board and pin it on the walls of his tiny cubicle. In essence, Johnny didn't do much.
Etymology: Job, profession, place of work + artifact, a spurious observation or result arising from preparatory or investigative procedures
----------------------------
COMMENTS:
Sounds like he was jobiquitous! - OZZIEBOB, 2008-05-06: 18:03:00
----------------------------
Created by: Nosila
Pronunciation: win press shun
Sentence: Freddy wanted to make his mark at the Moonlight Auto Body Shop. He knew he was smarter and more personable than the other guys and way more ambitious. He knew that someday he would run the company. The surest way to make a winpression was the easiest and none of the others had even thought of it. He courted and married the boss' very homely daughter and made a great winpression on his boss that secured his future permanently.
Etymology: Win (win something through one's efforts) & Impression (a clear and telling mental image or a vague idea in which some confidence is placed)
Created by: Stevenson0
Pronunciation: kol/uh/fiti
Sentence: John placed his distinctive colophiti on all office collaborative work and memos to demonstrate to his boss that he had personally read and digested all the important information.
Etymology: colophon (printer's distinctive emblem, used as an identifying device on its books and other works) + graffiti (markings, tags, or initials)
----------------------------
COMMENTS:
Lovely word. - OZZIEBOB, 2008-05-06: 18:05:00
----------------------------
Created by: otherguy
Pronunciation: kôrpəˈrāshīn
Sentence: As Joe retired he hoped that his name would be linked to a bit of corporashine. A glimmer of recognition for all the years of hard work was all he was looking for.
Etymology: corporation: a company or group of people authorized to act as a single entity + shine: be brilliant or excellent at something
Created by: OZZIEBOB
Pronunciation: WURTH-print
Sentence: Who will leave the greater worthprint: Foo, Kilroy or Johnny Bunko?
Etymology: WORTH: usefulness or importance, as to the world, to a person or a purpose & PRINT: impression or mark; to impress on the mind or memory. As a schoolboy, in the 1950s, it was a lark to write "Foo was here!" Later on he was replaced by Kilroy. Looks like now it's about to be Johnny Bunko's turn. Actually, "Johnny Bunko was here!" sounds great.
Created by: Tigger
Pronunciation: /kuh-REER-mahrk/
Sentence: The database that Jason had created ten years ago was still used for the company's inventory tracking, and he felt that it was his carearmark ― that the work he'd done so long ago was still being used today. That, and 'casual Friday', from the day when he thought he'd come to the office to do some extra work on a Saturday, wearing baggy jeans and a tee shirt, and it turned out to be a Friday instead.
Etymology: Career - chosen pursuit, profession or occupation (from Middle French, carriere "road, racecourse") + Earmark - any identifying or distinguishing mark or characteristic (from ear + mark; originally a cut or mark in the ear of sheep and cattle, serving as a sign of ownership)
----------------------------
COMMENTS:
clever blend - Jabberwocky, 2008-05-05: 16:14:00
nice. - galwaywegian, 2008-05-05: 17:09:00
----------------------------
Voted For! | Comments and Points
Created by: bookowl
Pronunciation: tag/gresh/shun
Sentence: Tommy couldn't control his taggression and tagged everything in sight.
Etymology: tag + aggression + expression
Created by: Nosila
Pronunciation: tin flu ens
Sentence: Johnny utilized his tinfluence on the student elections by spray-canning his name and motto on any surfaces in the school. "Johnny Bunko for Graffiti Monitor" proved very successful for him.
Etymology: Tin (can;airtight sealed metal container for food or drink or paint etc.) & Influence (shape or influence; give direction to)
Created by: wordmeister
Pronunciation: pimp-pression
Sentence: Johnny wanted to make a good pimpression on his new boss. So he primped his hair, and then pimped up resume with some of his most pimpressive achievements -- like sorting all of his email, or attending and several meetings in the last month and remaining conscious during most of them!
Etymology: pimp+primp+impression
Created by: alicat
Pronunciation: Mawn-han-cock
Sentence: Walter was 40, still working at McDonalds and wanted to leave his mark somewhere in the world. For two days he flipped the french-fry containers upside down to make Ws. In his own way, he felt that he was leaving his MonHancock on the rest of the world.
Etymology: "mon" - French of "my" and "Hancock" - as in John Hancock, or signature
----------------------------
COMMENTS:
funny - Jabberwocky, 2009-06-15: 13:18:00
----------------------------