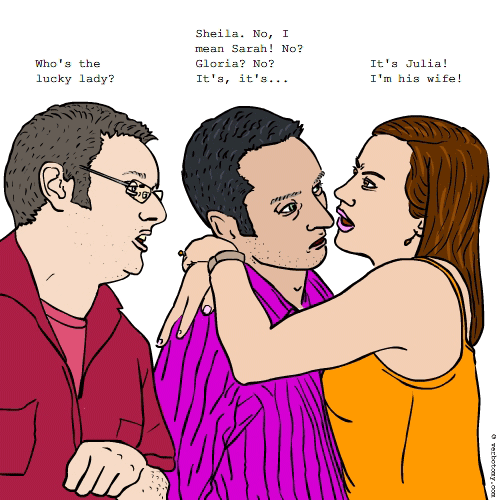 DEFINITION: v. To be unable to remember the name of a person you are speaking to, even though you've had a long-standing, and perhaps even an intimate relationship. n. An inability to remember a person's name.
Voted For: Mnemnoops
Successfully added your vote for "Mnemnoops".
You still have one vote left...
Created by: Biscotti
Pronunciation: hoo-blank
Sentence: He was suffering from whoblank when he called his fiance by the wrong name the other day...how embarassing!
Etymology: who + blank (draw a blank as to who it is)
----------------------------
COMMENTS:
Perhaps Dr. Who or the Hoos put a forgetful spell on him! After his who blank he really needs some good-luck charm! Fantastic creation! - silveryaspen, 2008-03-04: 10:28:00
----------------------------
Created by: Derrida
Pronunciation:
Sentence:
Etymology:
----------------------------
COMMENTS:
Nice start ... but where's the finish? You need to polish us off with the pronounciation, sentence and etymology ... and they each give you more points! Looking forward to reading more from you! - silveryaspen, 2008-03-04: 17:31:00
----------------------------
Voted For! | Comments and Points
Created by: metrohumanx
Pronunciation: FAYshull-APSE-OH!-sis
Sentence: Wilfred's palms began to sweat when the mystery woman called his name and coiled her arms around his neck like albino boa constrictors. Managing his best fake smile, names began to flood into his empty skull like a leak in a brass diving helmet. Wilfred was a victim of FACIALAPSOSIS - the often fatal inability to recall the name of someone from the not-so-remote past.
Etymology: FACIAl+LAPSe+OSIS=FACIALAPSOSIS........FACIAL:of or relating to the face, esp one you should know well.....LAPSE:a slight error typically due to forgetfulness or inattention;Latin lapsus, from labi to slip.....-OSIS:indicating a condition or untreated affliction.
----------------------------
COMMENTS:
Great sentence. Painted the picture in the mind! Great create with very original etymology, too! - silveryaspen, 2008-12-29: 10:19:00
Thanks! FIFTY Verbotomists today! I'm gabberflasted. - metrohumanx, 2008-12-29: 19:07:00
----------------------------
Created by: picabomama
Pronunciation: baby/label/er
Sentence: Aaron sounded fatherly and protective, but his wife knew that all the "honey", "sweetheart" & "baby" talk was really just a cover for his profound inability to remember a woman's name. He was a compulsive babylabeler.
Etymology: Baby- the most common name replacer + label
----------------------------
COMMENTS:
I tried to come up with something along these lines, but buddyize, honeyify, and palform just don't roll off the tongue as well as babylabel. - ErWenn, 2008-03-04: 09:57:00
Wow! Sentence captures how annoying and offensive babylabelers are! Your word captures that feeling of being talked down to! Very apt creation! Simple but packs a wallop! Great create! - silveryaspen, 2008-03-04: 10:15:00
Very true. Terms like mate, cobber, digger are often godsends for me! Unfortunately, Women's Lib has stamped out the use of luv, darl, etc. - OZZIEBOB, 2008-03-04: 19:38:00
----------------------------
Created by: Nosila
Pronunciation: am ego nees ya
Sentence: When what's-her-name...oh, yeah, Julia was kissing what's-his-name, oh yeah, Julio, his friend, what's-his-name, oh yeah, Raoul, ask who is the lucky lady? At first, what's his name, oh yeah, Julio was stumped, but he got over his amigonesia and realized that it was indeed, what's her name, oh yeah, Julia, his wife. The affects of too much sangria and tequila, old age and what's it called, oh yeah, amigonesia, had taken their toll on what's his name, oh yeah, Julio. It was another game of what's-it-called, oh yeah, Geriatric Jeopardy in full swing.
Etymology: Amigo (Spanish for friend) & Amnesia (partial or total loss of memory)
Created by: Jabberwocky
Pronunciation: nom/duh/ploom
Sentence: It is difficult enough to remember names of old friends but getting together with a writer's group became a nightmare trying to remember their nomduhplumes.
Etymology: nom de plume (pen name) + uh? + duh
----------------------------
COMMENTS:
Delightful! - silveryaspen, 2008-12-29: 10:15:00
Eggzellunt!! Wish I'd thought of it! - Mustang, 2008-12-30: 00:28:00
Clever - OZZIEBOB, 2009-01-04: 16:13:00
----------------------------
Created by: Nosila
Pronunciation: as sinth meyen did
Sentence: For over 30 years, once a month, the 6 friends had gotten together for drinks, snacks and an exchange of ideas and gossip, the way friends do. They had talked on every subject over the years, but creeping old age and the stress of daily living combined with copious tippling were starting to take their toll. Of late, their discussions took longer and many's an evening, their witty banter sounded more like: "You remember that actress,who was in some show with 5 friends (I can't remember the name of it), you know the one that used to be married to that guy who ran off with another actress and they had 4 kids ...she's another actor's daughter but they don't get along? You know, her dad was in an Academy award winning picture (I can't quite remember the title, but the music theme is going through my head).He was in it with what's his name who played in that movie about a soap star who had to become a woman to get work? Well, she, the first actress is a daughter of another actor who stars on that soap I used to watch and he was always a villain? You must remember...well, anyway, she just broke up with a guy who acted in that wedding movie with the actor who has a brother who also acts...you know the one I mean. Gosh they lead interesting lives!" Yes, the six grew more absintheminded with every toast. One of these times, they'd have to be hospitalized for anomia! Each night they got together, they performed their own version of "Geriatric Jeopardy". You know that game show hosted by that Canadian guy, Alex What's his name!
Etymology: absinthe (strong, supposedly hallucinogenetic liqueur which suppresses memory)& absent (mental pre-occupation) & minded (mental orientation)
----------------------------
COMMENTS:
The tippling effects in your pronounciation, sentence and word, is so well done I can see it! Tippling, rippling great one! - silveryaspen, 2008-03-04: 09:46:00
Dangit! I got all the way to "Geriatric Jeopardy" before totally cracking up laughing. Did anyone else make it that far? Your story was hysterical (except that it reminds me too much of myself when trying to remember celebrity's names). I love this word!!! - Tigger, 2008-03-04: 19:13:00
Luv your sentence and, especially, "Geriatric Jeopardy" - OZZIEBOB, 2008-03-04: 19:34:00
----------------------------
Created by: petaj
Pronunciation: kwozzy-no-go
Sentence: Freddie Forgetty, was a real Quasinogo. His hunchback and dodgy eye were certainly detractions, but his worst failing was that he could never remember his girlfriends' names. He was often heard to say, "but the face rings a bell".
Etymology: Quasimodo - bell ringer at Notre Dame + no go (fail)
----------------------------
COMMENTS:
Great sentence! - silveryaspen, 2008-12-31: 23:40:00
----------------------------
Created by: Mustang
Pronunciation: am-naim-NEES-ya
Sentence: Jamie had instant recall on the winners of the last 30 world series, all the Superbowls, and every MLB MVP over the last 3 decades but when it came to recalling people's names he had recurring bouts of amnamenesia
Etymology: Blend of 'name' and 'amnesia'.
Created by: artr
Pronunciation: ämoŏrnēzhə
Sentence: Wendy was no good in the morning. Until she had had at least 2 cups of coffee, she was lucky if she could remember her own name. To work her way around her amornesia she took on the habit of calling anybody who ended up in her bedroom sweetheart. Unless she woke up in Starbucks, this is the way it was destined to stay.
Etymology: amore (love - Italian) + amnesia (a partial or total loss of memory)
----------------------------
COMMENTS:
Absolutely caffeine-dish! - metrohumanx, 2008-12-29: 19:14:00
----------------------------