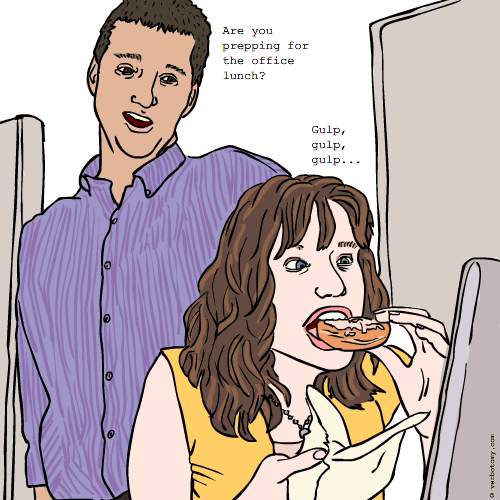 DEFINITION: v. To pig out at your desk right before a business lunch, so you'll be satisfied with a salad and water at the restaurant, and create the impression that you're not a glutton. n., A secret snack taken to strengthen one's resolve not to eat too much while others are watching.
Already Voted
Vote not counted. We have already counted two anonymous votes from your network. If you haven't voted yet, you can login and then we will count your vote.
---
Gastrostash
You still have one vote left...
Created by: jack189
Pronunciation: Pre-binge-if-i
Sentence: Jan was talking to Pam in the break room and Jan said, "I'm really hungry, but I don't want to eat a lot at that luch." "Yeah",replied Pam," I'm really going to have to prebingeify for this one!"
Etymology: Pre(before)+binge(to eat a lot)+ify(suffix used to make word a verb)
Created by: Nosila
Pronunciation: munch and lunch
Sentence: Marianne's pre-emptive munchandlunch was an attempt to fill up before going out on Company lunch meetings. That way she could eat breadsticks and water and still appear sated.
Etymology: Munch (snack) & lunch (midday meal)
Created by: Mustang
Pronunciation: PRE-veh-gorj
Sentence: Sandra had a 'secret' technique to avoid eating large meals at company gatherings that she called previgorge and though she knew that others in the office knew of her habit, she continued with the practice hoping that influential people at company luncheons would be impressed with her 'sensible self control'.
Etymology: Blend of 'previous' (coming or occurring before something else; prior) and 'gorge' (a gluttonous meal)
----------------------------
COMMENTS:
Great word - OZZIEBOB, 2008-11-13: 02:37:00
----------------------------
Created by: mrskellyscl
Pronunciation: pree-past
Sentence: Jill read that having a small prepast before a party would keep her from the embarassment of eating too much. So she kept a box of donuts and a bag of chips in her drawer to nibble on before a business lunch so that she would make a good impression by eating a light, healthy meal.
Etymology: pre: (prefix) before, earlier or prepartory+ prepare: make ready beforehand for a specific purpose such as an event or occation + repast: a meal or the food eaten or provided at a meal.
Created by: day4ghee
Pronunciation: pre-mas-ti-kator
Sentence: susan was accused of being a premasticator by billy who had witnessed her shoveling anything from ho-ho's to hot pockets into her face before the office lunch,he offered the tattered remains of a pizza bagle as evidence of the carniage.
Etymology: pre-to come before., masticate- to chew,or eat.
----------------------------
COMMENTS:
Goo one - TJayzz, 2008-11-12: 06:28:00
Sorry Good one! - TJayzz, 2008-11-12: 06:29:00
Excellent! - Mustang, 2008-11-12: 18:25:00
No, it WAS a goo one. Very nice. - metrohumanx, 2008-11-14: 02:43:00
I like it.... - mweinmann, 2008-11-14: 07:52:00
----------------------------
Created by: Nosila
Pronunciation: stel thee eet ter
Sentence: Stella was a Stealthyeater. Before the weekly department group lunches onm Fridays at various popular but caloric eateries, she would eat something healthy and filling, so that all she would order when she was out for lunch was a salad. Todd was wise to her and mocked her, but he was secretly a stealthyeater, too, who filled himself with fruit and grains before joining his workmates, who appeared to absorb most of their calories by liquid methods!
Etymology: Stealthy (marked by quiet and caution and secrecy; taking pains to avoid being observed) & Eater (someone who consumes food for nourishmen)& Healthy Eater ( having or indicating good health in body or mind; free from infirmity or disease & someone who consumes food for nourishment)
----------------------------
COMMENTS:
Good word - TJayzz, 2008-11-12: 06:26:00
----------------------------
Created by: rombus
Pronunciation: naw - hide
Sentence: Rusty was gaining quite a reputation. His coworkers secretly called him "ol' gnawhide" as they had caught him at his desk, in the supply closet, in the washroom and even in the stairwell, eating ribs, chicken and turkey legs before luncheon/meetings with the Board of Directors. Because he wanted to maintain the carefully crafted personna of "health nut", representing that he only ate fruit, berries and nuts, he found it necessary to cater to his inner-carnivore when he knew that he would not have access to his favorites for the rest of the day.
Etymology: Gnaw (to chew or bite on with the teeth), Hide (to conceal or cover up).
----------------------------
COMMENTS:
Great, now I have the Rawhide song going through my head: "Rollin', rollin', rollin', keep those hot doggies rollin', Rawhide! Good word though... - Nosila, 2008-11-12: 21:54:00
----------------------------
Created by: bananabender
Pronunciation: KRAM - wich
Sentence: Marla would eat a cramwich or two at her desk so often that her keyboard keys started to stick together with cramdrops.
Etymology: cram - to stuff in + sandwich - two slices of bread filled with meat, salads, condiments, etc.
----------------------------
COMMENTS:
Which witches of the watercress sandwich lunch practiced cramwiching first? Funnypunny word! - silveryaspen, 2008-01-15: 10:06:00
cramdrops keep falling on my head.... - Jabberwocky, 2008-01-15: 10:38:00
I guess that's how Marla keeps crammaging her keyboard... (those who sometimes eat at your computer — ever turn it over and shake all the cramdrops out? ) - Tigger, 2008-01-15: 22:40:00
Nah, nothing came out. Looks like I'm gonna have to use the cramdropsickle again! - bananabender, 2008-01-16: 00:23:00
----------------------------
Voted For! | Comments and Points
Created by: WriteBrighton
Pronunciation:
Sentence:
Etymology:
Created by: Niarc
Pronunciation: 'Cram-o-flage'
Sentence: Anticipating management's poor attempt at a staff buffet, Pete went about his usual cramouflage, secretly gobbling a hand-full of dried cereal, two cupcakes and half a bag of marshmallows.
Etymology: A combination of 'Cram'- to fill with an excessive amount of food; overfeed, and 'Camouflage' - concealment.