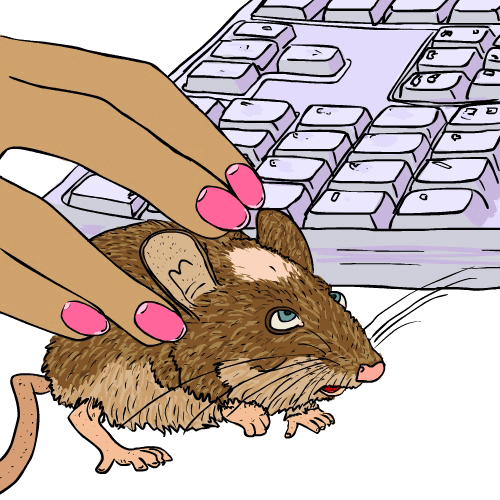 DEFINITION: n., A wear mark, or shiny spot, which appears on a heavily used computer touch-pad, mouse or keyboard. v., To wear down or erode through repetitive clicking, tapping or poking.
Voted For: Erodentia
Successfully added your vote For "Erodentia".
Thanks for voting! You have now used both of your votes today.
Created by: jkernen1
Pronunciation:
Sentence: The keyboard appeared old and a thin layer of fingerwax had been applied.
Etymology: finger + wax
Created by: Nosila
Pronunciation: ee teer eeo rayt
Sentence: June's computer mouse was so worn it was in the terminal stages of eteriorate. She thumped on it so often everyday that it was in a permanent stage of AOLopecia.
Etymology: deteriorate (to fade away or worsen) & e-terior (electronic exterior) & ate (eaten away)
Created by: Nosila
Pronunciation:
Sentence: The price you pay for being on everyone's e-mail address book is that you are vulnerable to moniterosion.
Etymology:
Created by: artr
Pronunciation: mous-uh-pee-shee-uh
Sentence: Jim has spent most of his career in front of a computer and it shows. His glasses are stronger and his bottom wider. The shiny spot, the mousopecia that is now a part of his computer mouse is almost as smooth as the shiny spot that gleams through his thinning hair. It's good that he is a touch typist seeing that most of the letters printed on his keyboard are almost nonexistent due to tactile erosion.
Etymology: Mouse (a hand-operated electronic device that controls the coordinates of a cursor on your computer screen) + alopecia (loss of hair; baldness)
Created by: metrohumanx
Pronunciation: SKIDZ-ack
Sentence: Rhoda's formica desktop developed an unsightly SKIDZAK which attested to her many hours of click-and-dragging...she had already worn out several Kevlar mousepads and worn a groove in her pathetic trackball. A digitransplant cured her carping tunnel syndrome, but she could never tolerate an unsightly SKIDZAK in her "work" area. However, she DID have 200+ verboticisms under her belt, so her life was not a TOTAL loss.
Etymology: SKID:to slide without rotating (as a wheel held from turning while a vehicle moves onward);perhaps of Scandinavian origin; akin to Old Norse skīth stick of wood.....ERZAK:to repeatedly snap one's fingers onto someone's head, resulting in a nagging pain and lingering paranoia.
----------------------------
COMMENTS:
That's ONE disturbed-lookig rodentette. - metrohumanx, 2008-10-17: 06:13:00
Copy and paste-copy and paste.... - metrohumanx, 2008-10-17: 06:18:00
Please excuse me if i tend to ramble on ond on, especially in the nob-editable "comments" area, but i have become addicted to Verbotomizing, and until an appropriate 12-step group crops up here in the hinterlands of the foothills, i guess you'll just have to put up with my excessive copying-and-pasting, since i am a 2-fingered typist with a Verbotomonkey on his back. Until I can have it surgically removed, you can just skip over all my inane comments and get down to the real Funkadelic verbotomisms which other more enlightened folks with less time on their hands and gobs of self-control have created. - metrohumanx, 2008-10-17: 07:45:00
It's like the dyslexic atheist once said: There IS no dog. - metrohumanx, 2008-10-17: 09:54:00
and the dyslexic Christian said. I was meant to be a bit backwards. It's the way doG made me. - artr, 2008-10-17: 10:58:00
that's my favorite part of verbotomy - the dialdog...keep up the rambling metro - Jabberwocky, 2008-10-17: 11:57:00
Thanks, Jab...it certainly makes the daze pass quickly. - metrohumanx, 2008-10-17: 12:01:00
So, Metro...are you waiting for a Verbotolobotomy before you can quit?? - Nosila, 2008-10-17: 22:16:00
I used to think i'd quit once i became the top verbotomist, but it doesn't look like that's gonna happen anytime soon...and besides, i'm having too much fun in the wee hours of the morning. I've developed a strange fondness for all you guys, and even though you're scattered far and wide, my simplified brain has formed little images of each of you, however erroneous these images may be. Little facets of your endearing personalities shine through each verboticism and make each revealing "sentence" more poignant and interesting. - metrohumanx, 2008-10-18: 06:37:00
Great stuff, Metro - OZZIEBOB, 2008-10-19: 00:43:00
Thanks, O-bob. Eight hours and fifteen minutes to go..... - metrohumanx, 2008-10-19: 15:46:00
Does living closer to the Greenwich Meridian give one an unfair "jump" on the daily word? - metrohumanx, 2008-10-19: 15:48:00
----------------------------
Created by: remistram
Pronunciation: kuhm-pyoo-buhf
Sentence: She compubuffed her keyboard so bright and shiny that she could almost she her reflection in each key.
Etymology: computer + buff (as in shine)
Created by: artr
Pronunciation: də/ter/e/or/a/shīn
Sentence: Wendel was proud of the deteriorashine on his keyboard. To him, it was a sign of a hard worker. The fact that most of the printed letters on the keys were almost rubbed off equated to the many hours he spent clacking away. As he ran his hand over the top of his head, he beamed at the thought that heavy-duty use of his brain could also cause deteriorashine.
Etymology: deterioration (become progressively worse) + Shine (reflect light because clean or polished)
----------------------------
COMMENTS:
great! - Jabberwocky, 2008-10-17: 11:53:00
----------------------------
Created by: petaj
Pronunciation: rub-BEAR-tet-if
Sentence: Bobby was such an intensive computer user that his two week old keyboard had rebaretetives where the letters used to be.
Etymology: rub + repetitive + bare
Created by: TJayzz
Pronunciation: Kee-flor-d
Sentence: Susan was a perfectionist so when the keyboard on her computer became marked by overuse, she insisted that the shop where she bought it from gave her a replacement due to it becoming keyflawed.
Etymology: Keyboard(a panal of keys for use with a computer) + Flawed(marked,become spoilt) = Keyflawed
----------------------------
COMMENTS:
nice one - Jabberwocky, 2008-10-17: 11:55:00
----------------------------
Created by: jeremy21
Pronunciation: /crap-doo/
Sentence: That dude crapdooed on the wrong person. Crapdooing is not the way to go
Etymology: Old american- coming from some old english