Verboticism: Gripesansameliorate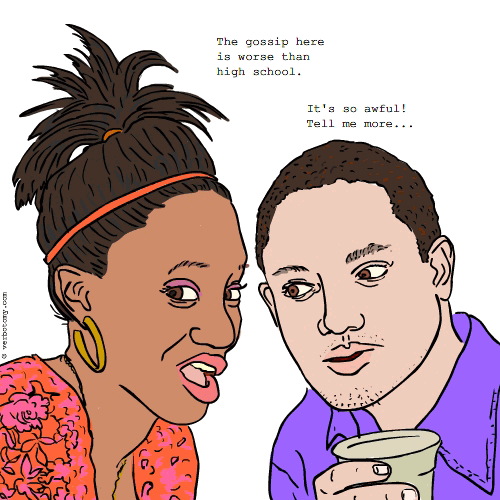 DEFINITION: v. To complain and complain about a problem without ever taking action to correct it. n. A complaint about something which you can fix but choose not to.
Already Voted
Vote not counted. We have already counted two anonymous votes from your network. If you haven't voted yet, you can login and then we will count your vote.
---
Gripesansameliorate
You still have one vote left...
Created by: administraitor
Pronunciation: blai-zem-ee
Sentence: The water cooler was the place to hear a fresh blazemy in the heady work-shy days before bankruptcy
Etymology: blame + lazy
Created by: Clayton
Pronunciation: di-RAHYD-l-nis
Sentence: Gracie's incessant deridling was symptomatic of her untenable hypocrisycophancy. She was even heard complaining to the boss about the tissues in her own wastebasket.
Etymology: deride + idleness
----------------------------
COMMENTS:
That's snot Gracie, that's Ingracieous. - purpleartichokes, 2007-06-15: 09:32:00
Lord nose! - Clayton, 2007-06-15: 18:13:00
Snorting with laughter! This sentence could be the pick of the day! - petaj, 2007-06-15: 21:12:00
That'd be so upsniffting. - Clayton, 2007-06-15: 23:10:00
Love grows where my Rosemary goes And nobody nose like me (sung by Pinochio) - Jabberwocky, 2007-06-16: 00:10:00
Haha. There's no business like nose business. (Sung by a plastic surgeon.) - Clayton, 2007-06-16: 02:59:00
----------------------------
Created by: serendipity9000
Pronunciation: gry-per-sha
Sentence: I started my new job hoping to help bring real change and fix real problems, instead all I found was gripertia.
Etymology: gripe + inertia
Created by: Stevenson0
Pronunciation: grahyp/es/ents
Sentence: Every office has two, or three incessant bitchers (women) and bastarders (men) who complain about every detail and do nothing about it except be bitchers and bastarders about anything and everything. This evil underlying gripescence is the single most distructive force in the workplace.
Etymology: GRIPESCENCE - noun - from GRIPE (complain constantly; grumble) + QUIESCENCE (being at rest; still; inactive, or motionless)
----------------------------
COMMENTS:
Amen, Brother! It's usually perceived that the women at work bitch, but the men provide valuable work-related feedback!!! - Nosila, 2008-08-08: 00:40:00
I like it - OZZIEBOB, 2008-08-09: 18:41:00
----------------------------
Created by: Nosila
Pronunciation: whyne way ter
Sentence: Julie and Manfred were the ultimate whinewaiters. They would complain about everything and wait to see if anyone else would fix it. It got so that everyone else avoided them because they hated the constant grousing. Finally, the pair had to admit that there was little to complain about, as no one came near them... poor dears, call a WAMbulance!
Etymology: Whine (moan, complain in a plaintive manner) & Waiter (someone who bides their time until the right moment) & Wordplay on Wine Waiter (a sommelier in a restaurant who helps you select the perfect plonk to wash down your dinner)
Created by: TimTheEnchanter
Pronunciation: com-PLY-an
Sentence: Roscoe would complian to anyone who would listen about how unfair it is that it now costs over $120 to fill the tank on his Hummer.
Etymology: Variant of COMPLAIN using the "I-A" vowel combination in COMPLIANT. To complain while being compliant = to complian
----------------------------
COMMENTS:
Roscoe makes me SICK! He just sits around on his loathsome spotty behind, squeezing blackheads and using up precious petrol! - metrohumanx, 2008-08-08: 17:43:00
----------------------------
Created by: mweinmann
Pronunciation: gro - nersha
Sentence: Jeremiah had to often listen to the groanertia around his office. He was tired of the same old complaints about things that anyone had the ability to remedy.
Etymology: groan, intertia
Created by: sanssouci
Pronunciation: mown ee lood
Sentence: "Or though I might have come across as a negitive person who always had something to complain about, I actually enjoyed my regular moaneludes because I got to talk to someone."
Etymology: Moan - Complain to express dissatisfaction, pain, uneasiness, censure, resentment, or grief; find fault Elude - Avoid knowingly, To evade or escape from, as by daring, cleverness, or skill.
Created by: AJR55
Pronunciation:
Sentence: All she did was megawhinge about her homework, but she never actually started it...
Etymology: mega - big, huge whinge - moan (as in complain), whine
----------------------------
COMMENTS:
great start AJR55 - Jabberwocky, 2007-06-16: 00:15:00
----------------------------
Created by: ErWenn
Pronunciation: /hɪˈpɑkɹəˌbɪtʃ/
Sentence: We all hypocribitch sometimes.
Etymology: From hypocrite + bitch
----------------------------
COMMENTS:
usually while playing a game of hypocribbage - galwaywegian, 2007-06-15: 06:08:00
Must be the Season of the Bitch. (Damn this tunacy.) - purpleartichokes, 2007-06-15: 09:41:00
----------------------------