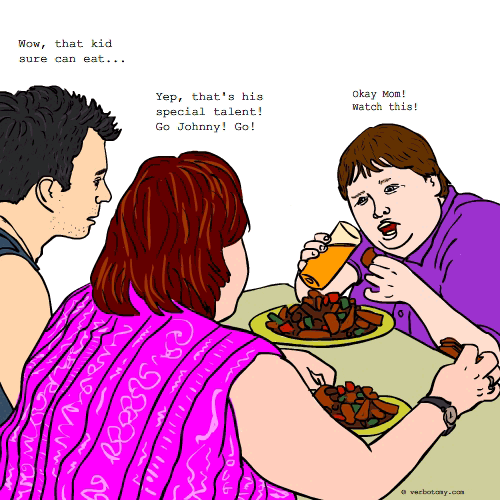 DEFINITION: n., A "talent" for which an individual takes a great deal of personal pride, even though it is just a common, mundane skill that almost everyone can do. v., To take pride in a special talent which in fact is not special at all.
Already Voted
Vote not counted. We have already counted two anonymous votes from your network. If you haven't voted yet, you can login and then we will count your vote.
---
Pridarded
You still have one vote left...
Created by: Penelopeme
Pronunciation: hy per normal ize
Sentence: Eating became the hypernormalized habit, to which, no one but Johnny, appreciated.
Etymology:
Created by: Jabberwocky
Pronunciation: chomp/i/tense
Sentence: Chris' chompitence was to chew food in perfect time to the music being played in the restaurant.
Etymology: chomp + competence
----------------------------
COMMENTS:
Excellent - TJayzz, 2008-11-18: 07:49:00
Very good - OZZIEBOB, 2008-11-19: 16:44:00
----------------------------
Created by: Mustang
Pronunciation: ecks-ADJ-er-flont
Sentence: Dexter is actually a very bland, nondescript sort, and lacking perception skills he will repeatedly exaggerflaunt his minimal capabilities in an effort to promote his own self worth.
Etymology: Blend of 'exaggerate' (to magnify beyond the limits of truth; overstate; represent disproportionately) and 'flaunt' (to parade or display oneself conspicuously, defiantly, or boldly)
----------------------------
COMMENTS:
Coldly accurate and funny! - metrohumanx, 2008-11-19: 20:12:00
----------------------------
Created by: nickers823
Pronunciation: Su'-per-mun"-dit-e
Sentence: His intense speed of sock folding had quick become a supermundity in the eyes of his neighbors.
Etymology: from super, meaning great and mundane meaning ordinary, lit. of the world
Created by: silveryaspen
Pronunciation: per fik shun
Sentence: Persimmon tartly touted her computer skills even though she couldn't tell you the difference between an icon and an image, or hardware from software. Quite often, her coworkers burst into smogrins (smiles smothering grins and chuckles) over her computer perfictions!
Etymology: An interplay to combine perfection with fiction! What one does when they try to pretend to perfection, but do not succeed in such fiction.
----------------------------
COMMENTS:
Great word - TJayzz, 2008-11-19: 07:49:00
Perfiction IS perfection! - metrohumanx, 2008-11-19: 20:24:00
----------------------------
Created by: loxhobabl
Pronunciation: sa-van-chur
Sentence: The fellow is a savanteur gift-wrapper.
Etymology: savant + amateur
Created by: tumblebehr
Pronunciation:
Sentence:
Etymology:
Created by: Nosila
Pronunciation: nil skil
Sentence: Little Johnny's doting parents were so proud of his talents. His overeating was a particular nilskill that they had fed and nourished over the years. Being chubby and hungry themselves, they encouraged him to overeat at every opportunity. They did not realize that he had developed his nilskill so well that left alone for over an hour without food, he might even gnaw off his own foot!
Etymology: Nil (nothing, zero) & Skill (ability acquired by training, talent, aptitude)
Created by: silveryaspen
Pronunciation: suk-sess
Sentence: Joe Blow, don't you know, was ordinary but neverthe less, to hear him tell, he does the mundane so well, he's nothing but a suckcess.
Etymology: A play on the words suck and success.
----------------------------
COMMENTS:
sometimes I think suckcessful people tend to climb the ladder - especially if they're named Joe Blow - Jabberwocky, 2008-01-25: 15:28:00
----------------------------
Created by: MsPettyAdams
Pronunciation: sav-aynt
Sentence: "Jeff can peel an orange in one whole strip! He's a genius!" "Yes, darling, lucky you, your husband is an absolute savain't."
Etymology: French term savant, meaning "learned person" combined with African American vernacular term ain't, meaning "is not"