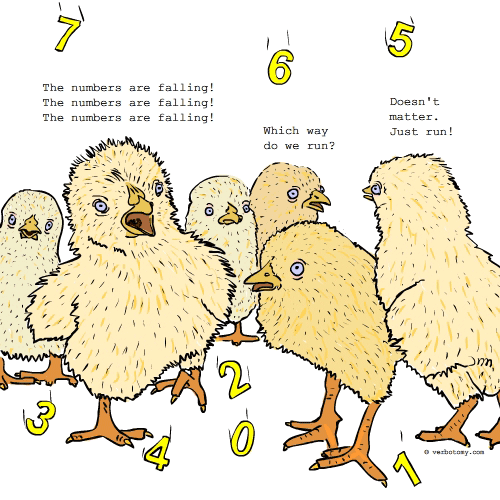 DEFINITION: v. To get freaked out by falling numbers and the prophets of doom who are eternally peddling their message of imminent global collapse. n. A type of mass hysteria created by the fear of falling numbers.
Already Voted
Vote not counted. We have already counted two anonymous votes from your network. If you haven't voted yet, you can login and then we will count your vote.
---
Soothdecay
You still have one vote left...
Created by: notoriousjoeyg
Pronunciation: Num - brun - eks - ee
Sentence: The number of people falling victim to numbrunexy is rising every day.
Etymology:
Created by: silveryaspen
Pronunciation: num ber sum
Sentence: People are being hit by falling numbers from st0ckmarkets on all the continents! The falling numbers in bank asset5 are hitting people in their $avings until it hurts! The falling numbers from equit1es are hitting homes and businesses, too. A rise in price$, makes the falling numbers from inf1ati0n, a descendread that causes more headtaches. It makes Stevie wonder. Can Mariah carry on? Can Penelope cruise along? Will Russell still crow? Will Angelina remain jolly? Or is it all too numbersome?
Etymology: NUMBERS, CUMBERSOME. Numbers - intergers (falling like stars). Cumbersome - burdensome, heavy, hard to deal with or handle.
----------------------------
COMMENTS:
Thank you for the laugh! - kateinkorea, 2009-03-03: 06:11:00
Try to keep a steady view while everyone else disintegerates around you. - petaj, 2009-03-03: 06:53:00
now this is clever and timely! - mweinmann, 2009-03-03: 09:19:00
terrific - Jabberwocky, 2009-03-03: 12:01:00
----------------------------
Created by: D4ng3rismymiddlename
Pronunciation: Sounds like "jumpers" but with a chump instead of a jump!
Sentence:
Etymology: Chick + chump + jump
Voted For! | Comments and Points
Created by: Jabberwocky
Pronunciation: sueth/dee/kay
Sentence: Economic soothsayers are the harbingers of soothdecay. A positive outlook and good dollar hygiene is what the world needs now.
Etymology: sooth (reality) + decay + soothsayer + tooth decay
----------------------------
COMMENTS:
thaths tho funny - petaj, 2009-03-03: 06:53:00
Clever use of a single letter. You can make a dental patient crazy. Just change the d to an m. - GlobalGallery, 2009-03-03: 07:52:00
reminds me of the old saw ... dental floss for the brain! Super sentence. Super word! - silveryaspen, 2009-03-03: 12:11:00
----------------------------
Created by: galwaywegian
Pronunciation: loh stee ree ah
Sentence: lowsteria is a much cheaper form of hysteria
Etymology: hysterie, low
Created by: FreakyDeak
Pronunciation:
Sentence:
Etymology:
Created by: petaj
Pronunciation: pre-sip-a-tate
Sentence: Try not to be precipiteight! I know your horse (no.8) had a fall in the race, and the eight ball fell in the pocket, and your superannuation fell 8% this year, but you read too much into these things.
Etymology: precipitation (rain, settling, deposition) + precipitate (rash, hurried) + eight (a number)
----------------------------
COMMENTS:
clever - Jabberwocky, 2009-03-03: 12:02:00
----------------------------
Created by: mweinmann
Pronunciation: skit + zoh + sum + mashun
Sentence: All of the predictions made by the false prophets resulted in schizosummation as the populace added up the numbers and became crazy with fear that the end was near.
Etymology: Schizophrenia + Summation >>Schizophrenia (A psychiatric diagnosis denoting a persistent, often chronic, mental illness variously affecting behavior, thinking, and emotion) Summation (Summation is the addition of a set of numbers; the result is their sum or total)
Created by: GlobalGallery
Pronunciation: arma-geddon-owta-heer
Sentence: "Wow! you really love baked beans" said Mike as he stared into Percy's full shopping trolley. "There for my bomb shelter up in Dead Man's Canyon" exclaimed Percy, "Next week the three moons of Zarcan will align with the cosmic aura of Xantoras and all who walk the Earth shall perish in the rain of unholy fire, so armageddonouttahere". "Oh" said Mike, "I just thought they were on special".
Etymology: 1.armageddon - catastrophic destruction. 2.I'm out of here - an expression of intent to leave a location.
----------------------------
COMMENTS:
hehe - galwaywegian, 2009-03-03: 09:09:00
a bit out of this world! (wink/big grin) - silveryaspen, 2009-03-03: 12:19:00
----------------------------
Created by: galwaywegian
Pronunciation: hahz deek
Sentence: the nasdeq wobbled then fell, becoming a nasdeek before lunch
Etymology: nasdeq eeek