Verboticism: Boursoflypord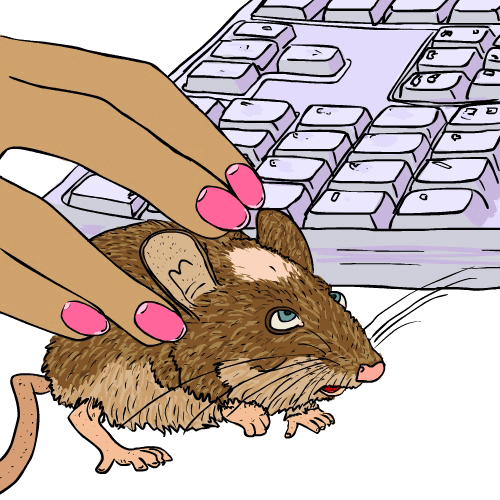 DEFINITION: n., A wear mark, or shiny spot, which appears on a heavily used computer touch-pad, mouse or keyboard. v., To wear down or erode through repetitive clicking, tapping or poking.
Voted For: Boursoflypord
Successfully added your vote For "Boursoflypord".
You still have one vote left...
Created by: TJayzz
Pronunciation: Kee-flor-d
Sentence: Susan was a perfectionist so when the keyboard on her computer became marked by overuse, she insisted that the shop where she bought it from gave her a replacement due to it becoming keyflawed.
Etymology: Keyboard(a panal of keys for use with a computer) + Flawed(marked,become spoilt) = Keyflawed
----------------------------
COMMENTS:
nice one - Jabberwocky, 2008-10-17: 11:55:00
----------------------------
Created by: artr
Pronunciation: rəbbərnishd
Sentence: Allan never was a touch typist. His life became that much more difficult when he discovered that his heavy use had rubburnished the printed letters off the keys on his keyboard. What he has saved by not replacing the keyboard he has spent on sharpie markers.
Etymology: rub (move one*s hand or a cloth repeatedly to and fro on the surface of something with firm pressure) + burnished (polish something, esp. metal by rubbing) a distant cousin of rug burn
Created by: giIIyp
Pronunciation:
Sentence: Which key is that? N? M? I never know, they are both so nakey.
Etymology: I do not know why, but I wear out the N and M keys - my naked keys.
Created by: sipsoccer
Pronunciation: (shine-tal-lic)
Sentence: I see your mouse has a shinetalic spot on it from major usage.
Etymology: shine-bright,glows,shiny talic-part of metallic, which also means shiny.
Created by: xirtam
Pronunciation: ri-kur-skohr
Sentence: The mouse attached to that old PC was used so much that there was a recurscore on the left button. It was the exact shape of my finger tip.
Etymology: Recur: Latin recurrere - to occur again + Score: Middle English scoren - to make notches, cuts, marks, or lines in or on.
Created by: thegoatisbad
Pronunciation: feVCn-gur-ode-ed
Sentence: Some folks have the "Midias touch"... well Kimberly has the hydrochloric acid touch. Maybe it was because she was heavy-handed in every sense of the word, or maybe because she used lemon juice as hand sanitizer. Whatever the reason, Kimberly's routine could be mapped through the fingeroded surfaces that enabled her daily life. These surfaces included the preset buttons of the only two radio stations she listed to while driving to work, the speed dial button calling QVC from her office phone, and the bald spot under her cat, button's, chin. "Oh, he doesn't mind," Kimberly explained "I saved him from a life of testing cosmetics. Never met a cat as obedient as Button."
Etymology: finger (you might have five of them on each hand) + eroded (worn away slowly)
----------------------------
COMMENTS:
Nice combo! - artr, 2010-03-15: 07:15:00
----------------------------
Created by: Mustang
Pronunciation: hard-wayr
Sentence: Simon's friends referred to his keyboard, mouse and mousepad as his hardwear because of the excessive wear shown on them by his overly rough use.
Etymology: Blend of 'hard' and 'wear', a play on the word 'hardware'.
Created by: petaj
Pronunciation: rub-BEAR-tet-if
Sentence: Bobby was such an intensive computer user that his two week old keyboard had rebaretetives where the letters used to be.
Etymology: rub + repetitive + bare
Created by: jeremy21
Pronunciation: /crap-doo/
Sentence: That dude crapdooed on the wrong person. Crapdooing is not the way to go
Etymology: Old american- coming from some old english
Created by: Nosila
Pronunciation: lap o peesh eeya
Sentence: Margo used her laptop 24-7. She took it everywhere with her...shopping;while in transit;waiting in line ups;at meals;watching tv;while visiting with people and heck, even at work. People thought she must have a very important position and could not miss a minute of contact with her office. In fact, Margo was addicted to on-line gambling and had used her laptop so much, that she had worn down all the surfaces of the keys and touchpad until her machine developed lapopecia. When her shrink saw that she was using her laptop during her therapy session, he immediately called for an intervention. He used a new treatment called a lapendectomy, where her laptop would be permanently removed. This procedure would not restore the surfaces on her laptop keys, but at least it would help staunch the fiscal hemmorraging to her bank account.
Etymology: Laptop (a portable computer small enough to use in your lap) & Alopecia (baldness;loss of hair (especially on the head) or loss of wool or feathers or covering; in humans it can result from heredity or hormonal imbalance or certain diseases or drugs and treatments)