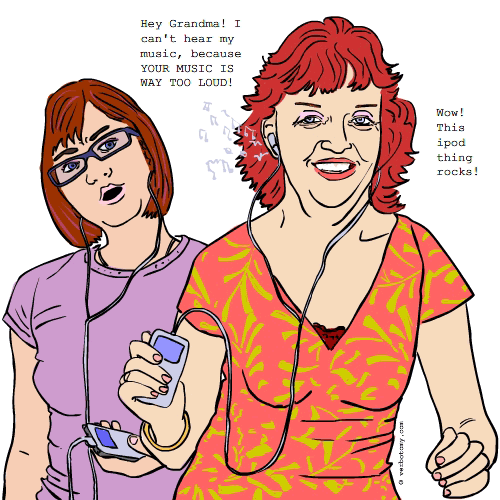 DEFINITION: n., Second-hand sound which has escaped from a headset. v., To play music on personal listening device so loudly that it leaks out of the earphones.
Already Voted
Vote not counted. We have already counted two anonymous votes from your network. If you haven't voted yet, you can login and then we will count your vote.
---
Earjaculate
Pronunciation: eer-JAK-u-layt
Sentence: Nancy sat on the subway wearing her ipod but not listening to it. She felt odd doing it that way, but throughout the train she could hear the earjaculate headmedowns of the other passengers. The way the podjamas merged into its own kind of earjam was more soothing to her than her own musical selections could have ever been. earjam: something you fill your ears with. podjamas: the barely audible sound of another person's ipod. headmedowns: second-hand music.
Etymology: ear + ejaculate (shooting out of)
Points: 977