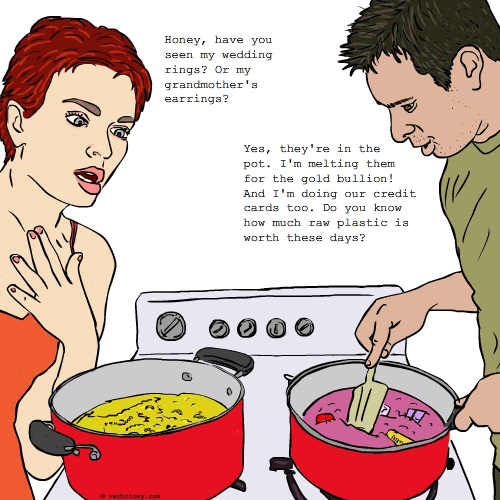 DEFINITION: n. The desire to convert items with sentimental value, like antique hand-crafted jewelery, back into the raw material, like gold bullion, to access its commercial value. v. To cash in something with sentimental value.
Voted For: Scentometal
Successfully added your vote for "Scentometal".
Created by: artr
Pronunciation: sentəmetl
Sentence: It was bad enough that Henry had insomnia. After being bombarded by at least a dozen late-night "Cash-for-Gold" commercials he now has scentometal fever. His wife had to put her foot down when he tried to hock her grandmother's dentures. "I don't care that she loves soup, she can't gum the rest."
Etymology: scent (a distinctive smell, esp. one that is pleasant) + metal (a solid material that is typically hard, shiny, malleable, fusible, and ductile, with good electrical and thermal conductivity) from sentimental
Points: 1082
Voted For!