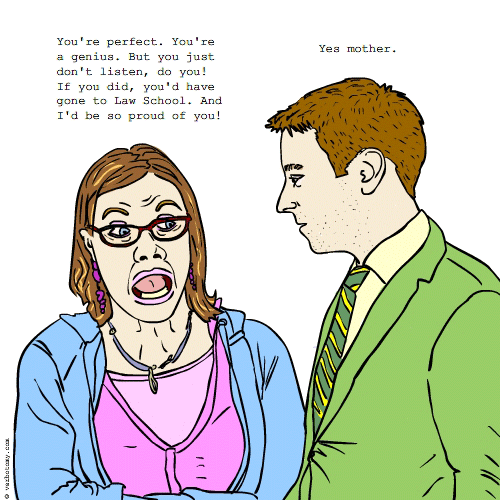 DEFINITION: v. To be offered regular encouragement, unwavering support and subtle but unrelenting criticism based on the worry that you may not be realizing your "full potential". n. The helpful but sometimes annoying advice given by a mother to a child.
Voted For: Mumsense
Successfully added your vote for "Mumsense".
Pronunciation: MUM-sense
Sentence: I know mummy won't be happy with my verboticism, but "mumsense" does at least sound respectable - although, I hope she doesn't pick up the connatation of nonsense. I thought about "mumifesto," but it has a "red" ring about it.(Mummy burnt daddy's socialist literature in the early 1950s, thinking that god-fearing man, McCarthy, was about to arrive in Australia). "Matrimatum," certainly not - she wouldn't like it; "Mama Sutra" - we don't talk about that sort of thing in our family, and I'd better forget about "Nuture-hurture": she thinks rythming words are ever so incredibly silly. I'd better stop verbotomizing right now, for the word "matrinark" keeps coming into my head.
Etymology: MUM & SENSE with connatation of nonsense.
Points: 680
Voted For!