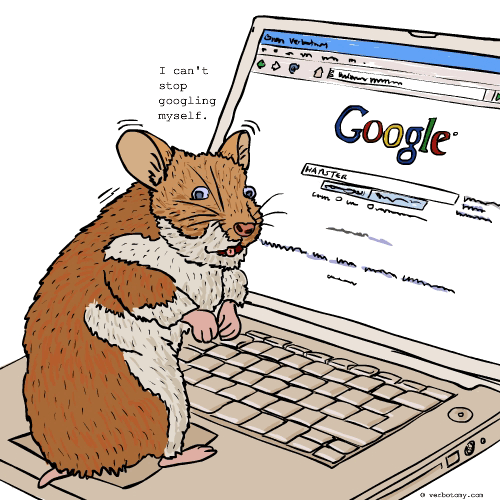 DEFINITION: v. To look up your own name on a search engine. n., The practice of using a search engine as a tool for self-realization, or perhaps just self-gratification, by repeatedly searching for information about yourself.
Already Voted
Vote not counted. We have already counted two anonymous votes from your network. If you haven't voted yet, you can login and then we will count your vote.
---
Egoogetter
Created by: artr
Pronunciation: ēgoōgetər
Sentence: To say that John is ego-centric is like saying that the sun is a little bit larger than the moon. He is the premier egoogetter. Every spare moment is spent running his name through every search engine he knows. He spent his summer vacation trying to get to the last page of a Google search. When he didn't get as many hits as he wanted he found a website where he could legally change his last name to Doe. It doesn't matter that the hits don't refer to him specifically, he just loves to see his name. He gets practically giddy when he watches a crime show and they have an unidentified male victim.
Etymology: e (electronic) + ego (a person's sense of self-esteem or self-importance) + Google (proprietary name of a popular Internet search engine) + go-getter (an aggressively enterprising person)
Points: 614