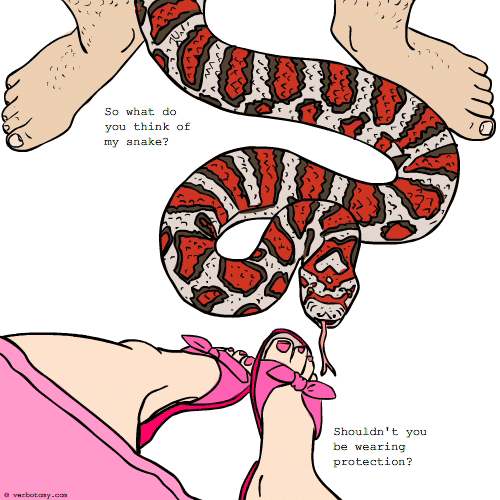 DEFINITION: v. To pretend that you adore someone's pet even though it is annoyingly stupid, bizarrely threatening, or just plain stinky. n. A alarming pet or companion, which nevertheless requires fawning.
Taipander
Top verboticism of the day created by OZZIEBOB
Pronunciation: Tahy-PAN-der
Sentence: Bob would do almost anything to slither up the corporate ladder to success; but when he, with open arms of alacrity, agreed to care permanently for his boss's pettiles, his toady taipander, taipandery and taipandering almost lead to a posthumous promotion.
Etymology: TAIPAN: (Oxyuranus scutellatus) Australia has 30 different kinds of venomous snakes. The largest and most poisonous of them is the taipan (tie-pan). It is in fact considered to be the most venomous snake in the world. The taipan was named by anthropolgist Donald Thompson after the word used by the Wik-Mungkan Aboriginal people of central Cape York Peninsula, Queensland, Australia. & PANDER: yield (to); give satisfaction to [syn: gratify, grovel]
Created by: OZZIEBOB.
Comments:
Great word...venominous with some of the slithery corporate taips one meets! Happy New Year...Hope it eel be a krait one! - Nosila, 2009-01-01: 02:59:00
More Top Verboticisms:
(Invented words created by the Verbotomy Writers)
Pseudozoophilia: /-su-do-zo-o-fi-li-a-/ Once a girl hears the ticking of that special biological clock, she'll fake anything. I knew a girl once who pretended to know how to cook, laughed at my jokes, and even laughed at my friends' jokes. What tipped me over to propose was her PSEUDOZOOPHILIA toward my pet tarantula Mike. Now that we are back from our honeymoon, Mike is dead, I am always hungry and can't help but wonder what else is she faking. Etymology: PSEUDO (fr. Grk.) - false, fake; ZOO (fr. Grk.) - animal; PHILOS (fr.Grk) - dear, love. Created by: XMbIPb.
Ingrossiate: /in-gross-ee-ate/ Amy was so smitten with Jim that she ingrossiated herself with his pet snake to save the relationship. Etymology: INGROSSIATE - verb - from INGRATIATE (to establish oneself in the favour, or good graces of others) + GROSSED OUT Created by: Stevenson0.
Herpevaricate: /hur-pi-var'-i-kate/ The proximity of Steve's 13 foot, 60 pound "pet" boa constrictor caused Sarah to simultaneously hyperventilate and herpevaricate. "Does this make me a herpocrite?" she wondered. Etymology: herpetology (dealing with reptiles and amphibians) + prevaricate (to lie); also "herpe" + hypocrite (a person whose actions or words belie their beliefs) Created by: Jamagra.
Comments:
Ingenious sentence, etymology and word. Triple Kudos! - silveryaspen, 2008-03-07: 09:52:00
Another great word; luv the sentence too. - OZZIEBOB, 2008-03-08: 20:58:00
More...
To see more verboticisms for this definition go to: So what do you think of my snake?
More Winning Words:
More Verboticisms! See the winning words for: We have securitized the lavatory entrance systems