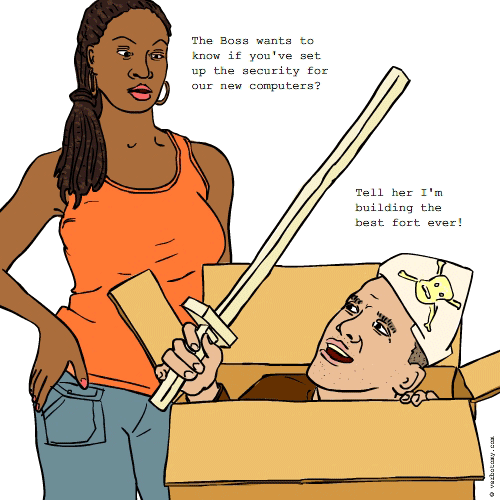 DEFINITION: v. To give a child, pet or coworker a wrapped gift or packaged item, only to discover they are more interested packaging than the item itself. n. Gift wrapping or packaging which proves to be more exciting than the contained item.
Wraptattention
Top verboticism of the day created by arrrteest
Pronunciation: rapt-uh-ten-shun
Sentence: Sven wasn't sure if he was standing there in quiet amazement, frustration, or amusement, looking at his nephew shaking the wrapping paper in the air. "It's so cool, Uncle Sven, the way it reflects the light!" The box containing the remote controlled car that he bought after careful planning and consideration sat there on the floor, almost an unnoticed afterthought. His nephew's wraptattention to the mylar wrapping paper seemed much more interesting.
Etymology: wrapped + attention
Created by: arrrteest.
More Top Verboticisms:
(Invented words created by the Verbotomy Writers)
Transmogiftfy: /trans-mow'-gift-fie/ Calvin's ability to transmogiftfy any box or wrapping into a rocket ship dazzled his parents. It frustrated his lazy pet tiger Hobbes to no end, however. Etymology: transmogrify - To change into a different shape or form, especially one that is fantastic or bizarre + gift Created by: Jamagra.
Boxerrebellion: /bock-sir-re-bell-yun/ Marina's third birthday brought expensive battery powered gifts as far as the eye could see -all from her "wish list". She played with them for a cumulative total of 10 minutes then grew tired of the noise and staged her own boxer rebellion by building a princess castle out of the packaging. Etymology: box + boxer rebellion: uprising in China at the turn of last century against foreign trade and technology Created by: libertybelle.
Comments:
Got my vote for originality - too many wrap words - of which i was guilty too - petaj, 2008-04-22: 04:13:00
I LOVE historical references. Good work! - metrohumanx, 2008-11-20: 02:41:00
Bubblewrapture: /-buhb-uhl-rap-cher-/ Every year on Timmy's birthday, a large box of carefully packed presents would arrive, sent by his Uncle Donovan and Aunt Beverly, who lived on the opposite coast. And every year, after opening the box and looking over the presents, Timmy would be overcome by a case of bubblewrapture, often making a fort out of the box and fashioning weapons and armor out of the packing materials. Etymology: bubble - a body of gas contained in a liquid or solid (from Middle Dutch, bobbel; imitative) + rapture - ecstatic joy or delight; joyful ecstasy (from Latin, raptus "a carrying off") Created by: Tigger.
Comments:
oh Yessssss! - galwaywegian, 2008-04-21: 05:22:00
ah - ya beat me to it! Well done! - libertybelle, 2008-04-21: 10:13:00
More...
To see more verboticisms for this definition go to: Have you set up the security for our new computers?
More Winning Words:
More Verboticisms! See the winning words for: Do you think it's time that Elsie started sleeping on the floor?