Verboticism: Moronicretailist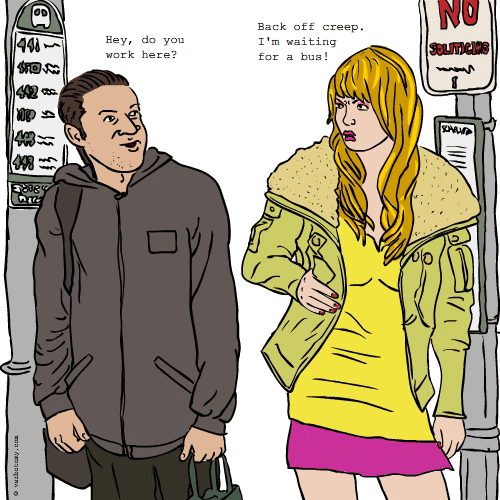 DEFINITION: v. To ask someone who is clearly in a store uniform, perhaps on a ladder creating a display or running a cash register "Do you work here?" n. A person who doesn't know how to ask for assistance in a retail store without asking a stupid question.
Moronicretailist
Pronunciation: more-ron-ik-re-tail-ist
Sentence: Teddy was in the video store perusing through the latest video games when he saw a lady in a red and white uniform with a name tag of Pamela. Teddy asks,"hey do you work here Pamela?" Pamela stared hard at the man and under her breath she called him a "moronicretailist" and points to her Action Video name tag and says,"Well let me see...I'm in Action Video in this ridiculous red and white uniform talking to cutomers and you see my name tag clearly showing I work here and you called me Pamela! "So sir, what can I help you with? "Teddy asks Pamela,"are these the latest video game releases?" Pamela just points to the big red sign right in front of the kiosk where Teddy was already looking...that clearly spells out "latest video games." She shakes her head and walks off mumbling..."that "moronicretailist" must never get out of the house!"
Etymology: Moron;disused term for a person with a mental age between 8 and 12, slang for a stupid person. Retail; Retail comes from the French word retaillier which refers to "cutting off, clip and divide" in terms of tailoring (1365). It first was recorded as a noun with the meaning of a "sale in small quantities" in 1433 (French). Its literal meaning for retail was to "cut off, shred, paring".[2] Like the French, the word retail in both Dutch and German (detailhandel and Einzelhandel respectively) also refer to sale of small quantities of items. Ist; added to retail to show one who buys retail merchandise.
Points: 776