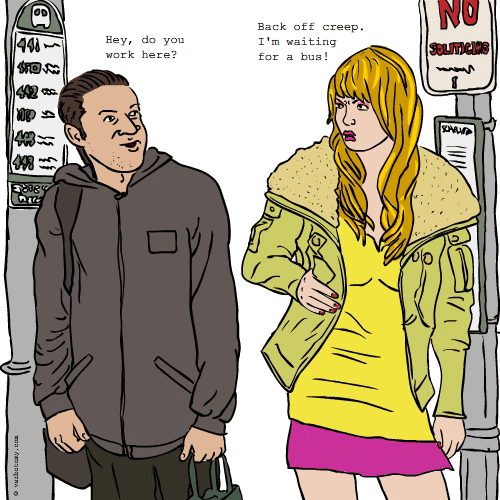 DEFINITION: v. To ask someone who is clearly in a store uniform, perhaps on a ladder creating a display or running a cash register "Do you work here?" n. A person who doesn't know how to ask for assistance in a retail store without asking a stupid question.
Cusdumber
Pronunciation: kus dum mer
Sentence: If you have ever worked in retail or other service jobs, you know who they are. Sure, not the nice 95% of Customers who actually pay your wage, happily, but the 5% who are the Cusdumber...the ones that usually don't end up spending, just making your life harder. They cannot read signs (like "Final Sale, No refunds"; "One per Customer" or "Do not Open Packages"). They ask foolish questions, "This is the only one in my size, will it still be here next week?" or "Do these emeralds come in any other colour but green?" or "It's 9:00 pm, does that bell ringing mean you are closing? But I just got here!" Sometimes they are rude and say hurtful things like,"Don't you know how to operate a till?" or "When I ask for a sparkly rainbow thingy with bright lights on it, you should know what I mean...did you flunk your training class?" After one of these frustrating encounters, I console myself with the fact that I am not that person and try to not be a cusdumber myself when it is my turn to be a consumer!
Etymology: Customer (someone who pays for goods or services)& Cuss (swear at)& Dumber (slow to learn or understand; lacking intellectual acuity)
Points: 692