Verboticism: Demealiorate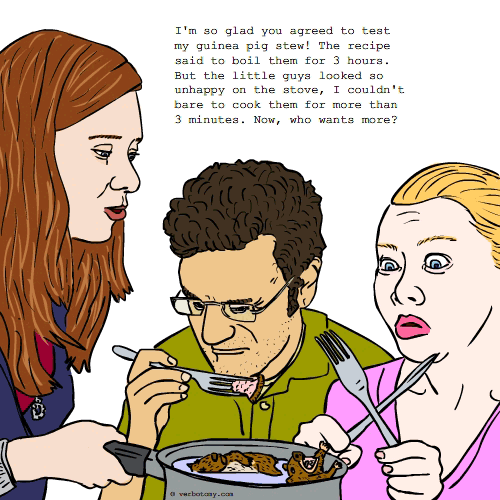 DEFINITION: v. To prepare or process food in a manner that renders it unpalatable, indigestible and completely inedible. n., Food which has been prepared in such a way that it is unfit for human, or even non-human, consumption.
Demealiorate
Pronunciation: dee - meel - eor - ate
Sentence: Sandra had a cooking jinx on her. She could demealiorate a frozen pizza. When she boiled water, the air began to smell foul. So, you can imagine the Thanksgiving feast her family was soon to be in for. Everyone was gladly offering to help cook or bring dishes. Funny thing was that Sandra actually considered herself to be a cooking genius. "Let's see, I think I'll start out with turkey beast, stuffed with makerel-raisen cornbread. Hmmmm potatoes mashed with curry/anchovie paste would be good but I'll leave the rolls alone this year.
Etymology: The base of this word is ameliorate (to make better or more tolerable, improve or grow better). The word meal is inserted and the prefix "de" is added which changes words to mean less smaller or decreasing.
Points: 566