Verboticism: Gaiaaaaaaaargh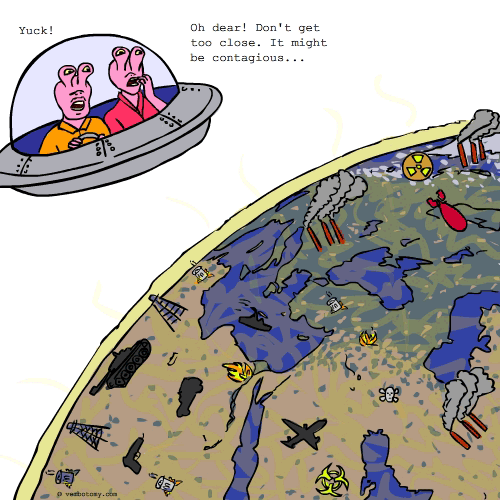 DEFINITION: n. A sick planet which has a cold, a fever, and some kind of weird infection. v. To be worried sick about the health of the planet, because you know the problem is really the people.
Already Voted
Vote not counted. We have already counted two anonymous votes from your network. If you haven't voted yet, you can login and then we will count your vote.
---
Gaiaaaaaaaargh
You still have one vote left...
Created by: metrohumanx
Pronunciation: pan-ORB-oh-ZOO-vecks
Sentence: A plague of greed's upon Our Sphere- It can be seen; it smells like fear. Plunder, harvest, strip her bare- Hurry now don't miss your share! A malady some thought inspired… The Struggle now must NOT grow tired. No catalogue or even index- Defines the word..... PANORBOZOOVEX !!!
Etymology: PAN+ORB+(bozo)+ZOO+VEX= PANORBOZOOVEX.....PAN: (prefix)comes from Greek and means "all." It is similar to the prefix omni- only omni- comes from Latin.....ORB: a spherical body, especially Earth, a spherical celestial object; Middle English, from Middle French orbe, from Latin orbis circle, disk, orb.....BOZO: a foolish or incompetent person, a famous 20th century clown; origin unknown [ 1916 ].....ZOO: a place, situation, or group marked by crowding, confusion, or unrestrained behavior, a collection of living animals usually for public display; short for zoological garden [1847].....VEX: to bring trouble, distress, or agitation to; Middle English, from Anglo-French vexer, from Latin vexare to agitate, harry; probably akin to Latin vehere to convey [15th century]
----------------------------
COMMENTS:
To the planetary barricades! Decentralize solar power! Revolution is NOT a dirty word! Ars Longa Vita Brevis! - metrohumanx, 2009-04-22: 01:30:00
The worsening world ... in versening unfurled ... and yet your last line and verbotomix ... evoke a smile ... for your fourplex! - silveryaspen, 2009-04-22: 11:31:00
You make it go from bad to verse, metro...like turning lemons into limoncello! - Nosila, 2009-04-22: 22:36:00
----------------------------
Created by: readerwriter
Pronunciation: gee-oh-dohr-us
Sentence: The planet below had always looked so peaceful from their own planet. They had been studying it for eons. They hoped it was hollow and contained the crystals they needed for energy. If an Earthperson had been able to see them, they would have thought the bulbous protubrances on the heads of Dork and Fork were eyes, but they were not: they were nostrils. And, oh, what a stench Dork and Fork inhaled as they drew closer to Earth's atmosphere. It was negatively geodorous! They would have to turn around. What had happened since the last time they had visited in 6,000BC when there were very few Earthpeople to be seen? Dork and Fork were convinced it was the Earthpeople's heads that were really hollow. But, perhaps, the stench was only a geocentrick by Earth people? As soon as they arrived home they would have geophysickals to make sure they were fine.
Etymology: using GEODE, meaning a hollow spheroidal rock filled with crystals + ODOROUS, meaning the quality of stimulating the sense of smell
----------------------------
COMMENTS:
Exsmellent! - silveryaspen, 2009-04-22: 11:23:00
----------------------------
Created by: artr
Pronunciation: yoōnəvərsilnis
Sentence: The citizens of Mars have voted to study the science of moving their planet to another solar system to get away from the universillness called Earth.
Etymology: universe/universal (all existing matter and space considered as a whole; the cosmos) + illness (a disease or period of sickness affecting the body or mind)
Created by: galwaywegian
Pronunciation: asss trooooh noooooh missst
Sentence: She followed the screams through the physics department till she came to the door with the plaque which read "Prof. C. Licken, astrohnomist"
Etymology: astronomist, oh no,
Created by: Nosila
Pronunciation: toob erth kul os is
Sentence: The aliens avoided our planet once they determined it had developed tubearthculosis. It was the only explanation for the poor air quality and inability of most Earthlings to breathe properly.
Etymology: Tuberculosis (infection transmitted by inhalation or ingestion of tubercle bacilli and manifested in fever and small lesions (usually in the lungs but in various other parts of the body in acute stages) and makes breathing very difficult) & Earth (our Planet)
Voted For! | Comments and Points
Created by: Koekbroer
Pronunciation:
Sentence: Wow, look at all the flotsam in the oceans. I think earth is suffering from some pretty bad planetosis.
Etymology: Combines the words "planet" with the last two syllables of "halitosis"
Created by: Mustang
Pronunciation: en-VYE-rus-mehnt
Sentence: What had once been a pristine world, devoid of any kind of pollution or environmental upheavals has suddenly developed a severe envirusment, a world where every corner was feeling the effects of enviro sickness.
Etymology: Blend of environment and virus.
----------------------------
COMMENTS:
good one Mustang - galwaywegian, 2009-04-22: 09:10:00
Excellent! - silveryaspen, 2009-04-22: 11:15:00
Envirusment and embarrassment! Good one, mustang. - Nosila, 2009-04-22: 22:35:00
----------------------------
Created by: silveryaspen
Pronunciation: in flu men zah
Sentence: The total world population, per the 2008 estimate by the United States Census International Programs Center is 6,679,493,900. As of February 2009, the world's population is estimated to be about 6.76 billion. Overcrowding and people pollutions are wreakening our planet. Terra caught a influmenza and is in a dangerous state of flux.
Etymology: INFLUENZA, MEN. Men - in the broader sense of the word, is often used to mean all people. Influenza - a widespread illness. Ergo: If the world has caught a wide spread illness from too many men, it suffers influmenza. /// Wreakening is a verbotomy of wreak and weakening. /// The last word flux, means not only a state of constant change, but archaically was a term for severe diarrhea ... something mankind needs to stop inflicting on our planet.
----------------------------
COMMENTS:
Excellent verbot Silvery, stating both cause and problem! Neat facts too! - Biscotti, 2009-04-22: 10:56:00
So can we get a vaccine against influmenza,silvery...sign me up! - Nosila, 2009-04-22: 22:34:00
Yes so true! Great word. - splendiction, 2009-04-22: 22:46:00
Best of the day! - Mustang, 2009-04-22: 22:56:00
Influmenza! Wonderful word and great info! :) - abrakadeborah, 2009-04-22: 22:58:00
----------------------------
Created by: karenanne
Pronunciation: TAIR ah fide
Sentence: After all the gloom-and-doom forecasts (both true and hyped) about the state of the Earth, most of us are now terrafied. What is the AlGore-ithm for solving the problem of ecoterrorism and replacing it with ecoterraism? If we don't get a tranfusion of hemoglobe-in and gammaglobe-ulin, we're going to end up with the globetrots.
Etymology: terra (earth) + terrified
Created by: Nosila
Pronunciation: mor bit or bit
Sentence: When Glak and Fribor entered Earth's atmosphere, they knew they were going into a morbitorbit. They had been to this planet, third from the Sun, before, but eons ago. When they saw it again, it was like viewing the rusted and decaying snagrom of a kleronbeen. A yellowy haze (not yet identified on their gastronomogeiger)hung over the sphere. Then they started giggling to themselves. "Jokes on you, Earthlings! You feel guilty, but really there is a sign near the Milky Way, pointing to Earth as a sanitary refuse and toxic dump for the Universe. All us aliens picked your planet because we could hide our trash in plain sight here! Your are not alone and the trash is out there!"
Etymology: Morbid (caused by or altered by or manifesting disease or pathology;suggesting the horror of death and decay; suggesting an unhealthy state) & Orbit (the (usually elliptical) path described by one celestial body in its revolution about another)
----------------------------
COMMENTS:
Glak and Fribor saw the snagrom- hope they don't induce a pogrom! - metrohumanx, 2009-04-22: 01:20:00
Never thought about earth as being part of Universe-alley. Your sentence truly makes us realate to the definition in a Bigger Way! All parts of your verbotomy are so great, they are Out Of This World! - silveryaspen, 2009-04-22: 01:56:00
----------------------------